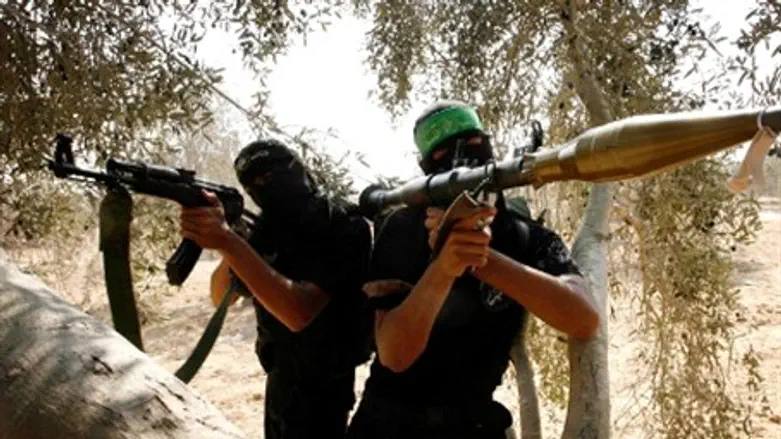 Hamas terrorists train for rocket attacks
Israel news photo: Flash 90
Representatives of Israel and terrorist group Hamas reportedly were in Cairo Monday to discuss the cease-fire in Gaza, according to a report in Arab media. The report in the London-based Arabic daily Al-Sharq al-Awsat said that Israeli officials and Hamas terrorists would meet separately with Egyptian officials to try and hammer out further understandings of the cease-fire that was announced last week, ending Israel's Operation Pillar of Defense.
The first meetings were held Sunday night with the Hamas delegation, the report said. According to the report, Hamas is demanding to be allowed to operate Gaza Port, and the terror group has proposed reopening Gaza Airport as well. Hamas also is demanding to be allowed to export more goods both to PA-controlled areas of Judea and Samaria, and to the rest of the world.
Hamas also wants Israel to supply more permits for Gaza businesspeople to transit through Israel to PA-controlled areas of Judea and Samaria, and to allow the import of raw materials and products that Israel has banned because they are likely to be used for terror activity.
The report said that the Israeli team is set to arrive in Cairo on Monday evening. Israel is set to demand that Cairo work to clarify the language and conditions of the agreement, ensuring that both Israel and Hamas understand their obligations under the agreement, before granting further concessions.