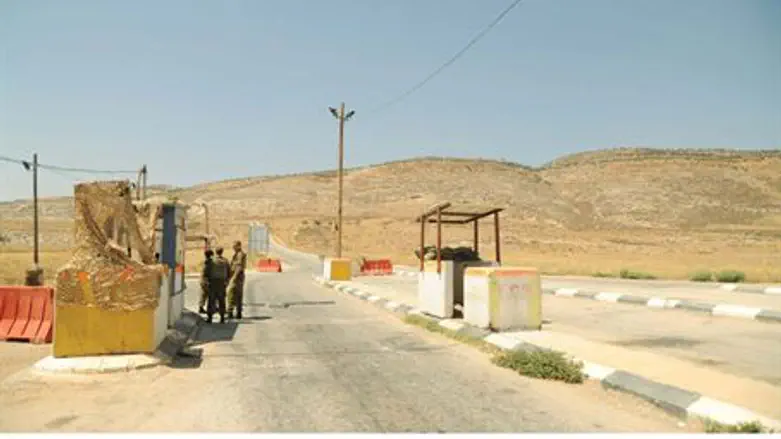 Jordan Valley checkpoint
Israel news photo: Flash 90
Iran is trying to close surround Israel on three sides with its "axis of evil" by offering free oil to Jordan.
Iran and Syria, through its Hizbullah ally, threatens Israel on the northern border, and the Hamas-Muslim Brotherhood alliance south of the border allowed massive rocket and missile attacks on Israel until the ceasefire last week after Operation Pillar of Defense.
Festering economic problems, a growing Palestinian Arab population and paralleled opposition to the Jordanian-Israeli peace treaty have made the kingdom ripe for Iran to step in, which it did last week.  
"My country is ready to supply the kingdom with free oil and energy for the next 30 years, in return for trade deals and agreements regarding religious tourism between the two countries," Iranian Ambassador to Jordan Mustafa Zadeh said.
"We have one common enemy and everybody knows that," the senior Iranian official added, which was a clear reference to the United States and Israel, according to an Al Hayat article translated and published by Al Monitor.
Jordan is burdened with a $21 billion deficit, but the temptation of free oil was termed a "big risk" by several Jordanian sources.
Spokesman for the Jordanian government Minister Samih al-Maaytah told Al-Hayat that "Jordan will study any proposal it receives as it deals positively with all nations," but high-level sources n Amman expressed doubts.
"Tehran is seeking things beyond trade deals and religious tourism. However, Jordan will not abandon its historic alliances, especially with Saudi Arabia and other Gulf countries," the sources said.