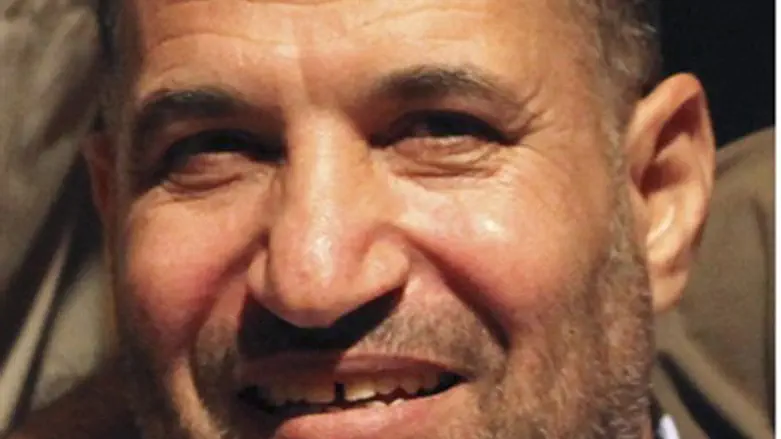 Ahmed Jaabari
Reuters
The son of Hamas arch-terrorist Ahmed Jaabari, whose targeted killing by Israel marked the beginning of Operation Pillar of Defense last week, has vowed to avenge his father's death.
"This is a heavy loss," Muemin Jaabari told Channel 2 News on Thursday. "He was a very important man to Hamas and Islam, not just for Palestine."
The young Jaabari said that he did not get to spend time with his father recently, because "he returned from the pilgrimage to Mecca and it was very difficult to see him. We did not seen one another for a whole week after he came back."
Muemin Jaabari described his father as always being "very careful" and added that his killing was "fate."
At the same time, the son vowed to avenge his father's death and said that "the response will come soon and it will be very painful."
He also discussed the ceasefire agreement that had been reached between Israel and Hamas.
"We are pleased with the agreement because this was not our decision but a decision made by our leadership," said Muemin Jaabari.
On Thursday, Hamas declared November 22, the day after its ceasefire was signed with Israel, as a public holiday in Gaza.
"The Palestinian government announces that Thursday 22nd November is a national holiday of victory and an official holiday," read a statement issued by Hamas. Hamas invited "all citizens to celebrate this occasion and visit the families of the martyrs and the wounded and those affected by the violence and to affirm national solidarity."
On Wednesday evening, the terror group celebrated the ceasefire and claimed "victory" over Israel. Hamas leader Khaled Mashaal announced in a press conference that Israel "has failed in all its goals" in Operation Defensive Pillar, following the cease fire announcement.
Hamas marked the ceasefire by firing 20 rockets at southern Israel between 9:00 p.m., when the ceasefire was to have gone into effect, and midnight Wednesday evening. Since then, however, the ceasefire has mostly been maintained. Several sirens were heard in southern Israel on Thursday, but the IDF said they were false alarms. Some reports indicated that while the terrorists indeed fired rockets, they had landed within Gaza.