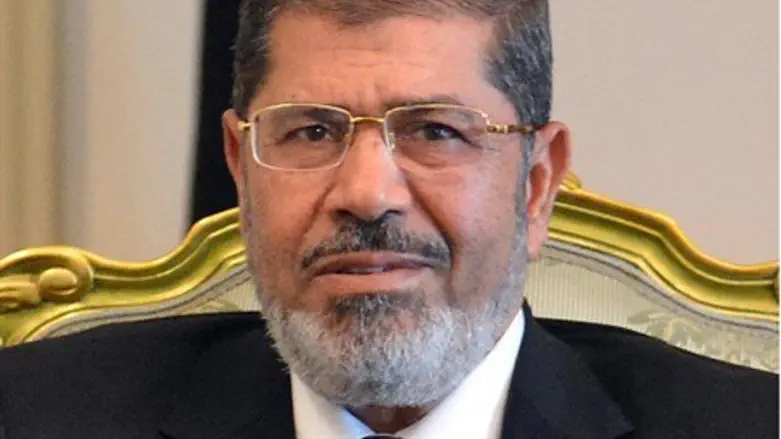 Egyptian President Mohammed Morsi
AFP/File
Egypt's Muslim Brotherhood is calling for a jihad ("holy war") to liberate the Palestinian Authority areas. "Jihad is obligatory" for Muslims, top Islamic cleric Mohammed Badei said, adding that peace deals with Israel are a "game of grand deception".
Badei added that there have been enough negotiations and that the "enemy knows nothing but the language of force." The Muslim Brotherhood and its members – of which Egyptian President Mohammed Morsi is one – do not recognize and refuse to hold direct talks with the State of Israel.
The call came just one day after the Brotherhood's former presidential candidate, who won the national election in June, sealed a ceasefire between Israel and Gaza's ruling Hamas terrorist organization.
Brokered by Morsi and U.S. Secretary of State Hillary Clinton, the agreement officially went into effect at 9:00 p.m. Wednesday night.
Under the ceasefire, no terrorist group is to fire any rocket, missile or mortar shell at southern Israel. The Israeli army is to cease air strikes, and open the Gaza border crossings.
The crossings have been opened daily for extended hours on most days for nearly for a year, with some exceptions, in any event. They have been closed on major holidays and during high security incidents in which major threats are detected.
Although terrorist groups continued their rocket fire at southern Israeli cities and towns for several hours after – wounding a number of civilians and traumatizing countless others – by morning the skies were mostly quiet.
There were some sporadic terror attacks around the country, and alleged "erroneous activations" of Israel's Color Red incoming rocket alert siren in southern Israeli communities.