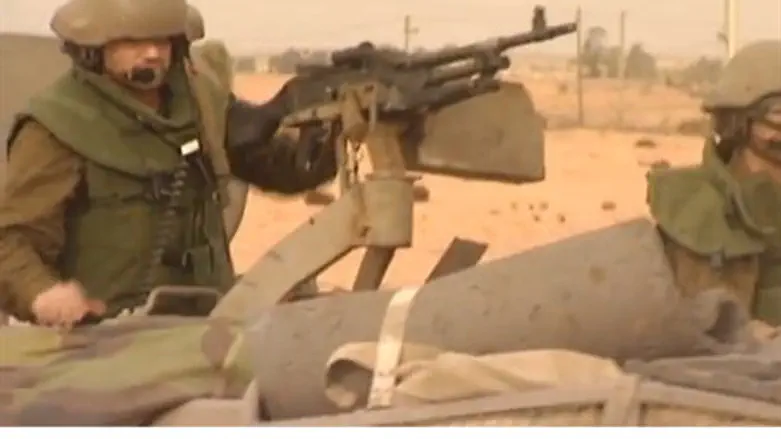 IDF reservist prepares in Pillar of Defense
Israel news photo: IDF Spokesperson's Office
Hamas' supreme leader Khaled Mashaal charged in Cairo that Israel is bluffing by preparing for a ground incursion in Gaza. "If you wanted to launch it, you would have done it," he told journalists Monday.
The following day, Hamas's senior military commander Mohammed Deif broadcast a rare audio message on Hamas' Al Aqsa television and warned, Israel will "pay a heavy price" if it launches a ground operation in Gaza.
Mashaal told a press conference in Cairo Monday that Israel is using preparations for a ground incursion as a threat to "dictate its own terms and force us into silence."
Despite chatter by Arab media of an "imminent" truce, the IDF said it is continuing to prepare for a ground incursion to dismantle the terrorist infrastructure in Gaza. The military has massed tens of thousands of soldiers near the Gaza borders and has moved hundreds of tanks and armored personnel carriers to the area.
AFP reported that Israel has put a ground maneuver on hold while United Nations Secretary General Ban Ki-moon and U.S. Secretary of State Hillary Clinton attempt to hammer out a ceasefire agreement.
Israel has made it clear that it cannot agree to any ceasefire without guarantees that there will be no more mortar and missile attacks on Israel. Previous guarantees have never been fulfilled, and dozens of ceasefires the past years have not lasted more than a few weeks, and sometimes not even a few hours.
Based on past experience, Hamas cannot meet that condition even if it wants to because of the preponderance of rival terrorist organizations in Gaza.
Mashaal said Hamas demands that Israel meet Hamas' legitimate demands and refrain "from its aggression, assassinations and invasions, and for the siege over Gaza to be ended."
Agreeing to Hamas' terms would in effect leave Israeli civilians as sitting ducks for "ticking bomb" terrorists preparing attack on Israel. It also would leave Gaza open to import all of the advanced weapons it wants by the sea, where Israel has placed a maritime embargo that the United Nations has determined is legal.