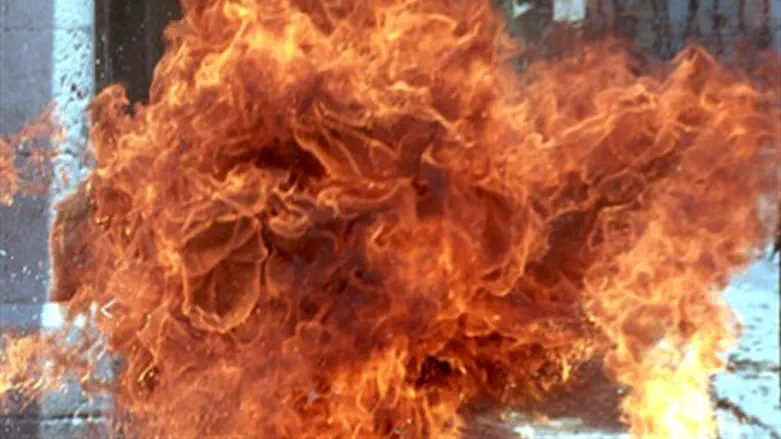 Firebomb explosion (illustrative)
Israel news photo: Flash 90
Palestinian Authority Arabs continued to attack Jews in Judea and Samaria on Monday evening.
A Border Guard officer was lightly wounded as PA Arabs threw rocks at him in Qalandiya, north of Jerusalem. Another soldier was lightly wounded in Beit Ummar, near Bethlehem, as PA Arabs threw rocks at IDF soldiers. In the nearby Husan bypass, rocks were thrown at Israeli cars. No one was injured.
Arabs also carried out firebomb attacks, throwing five at a Border Police base at Atarot. Two of them fell inside the base. No one was hurt.
In Hevron, a terrorist tried to attack a soldier and was shot and seriously wounded by security forces.
A firebomb was also thrown near the community of Hinanit in northern Samaria. No one was hurt.
In another incident, firebombs were thrown at an Israeli vehicle near the community of Maale Levona in the Binyamin region. Daniel Maon, a resident of the community, told Arutz Sheva that two or three firebombs had been thrown at him as he was driving to his home near Ofra in Binyamin.
"We drove by the Arab village of Sinjil and saw three PA Arabs standing on the side of the road, holding what looked like fire in their hands," he said.
"Suddenly they threw a firebomb that missed the car," added Maon. "I told the driver to keep going, and then another firebomb was thrown at us which shattered the windshield and got into the car."
Maon said that the back seat started to burn and the vehicle eventually burned down completely. Neither he nor the driver were hurt. Immediately after the incident, an IDF force entered the village in an attempt to catch the terrorists.
A large number of Israeli drivers have reported being targeted in the past several days by rocks and firebombs, as PA Arabs in Judea and Samaria show solidarity with their fellow Arabs in Gaza.
Among the victims of stone throwing attacks in recent days was Moti Hominer, a resident of Ateret in the Binyamin region, whose vehicle was attacked by a mob of stone-throwing Arabs as he returned from Petach Tikvah last Friday.
Speaking to Arutz Sheva, Hominer said that he saw a number of Arab youths sitting on a hill by the side of the road, and he realized he was going to be attacked. There was damage to the vehicle as the youths lobbed large stones aimed at the driver's side window, but he was uninjured.
Even before the IDF's Operation Pillar of Defense in Gaza started, there was a surge in firebomb attacks in Judea and Samaria.
According to the monthly report by the Israel Security Agency (Shin Bet), 68 out of 70 terror attacks in Judea and Samaria during October were firebomb attacks.