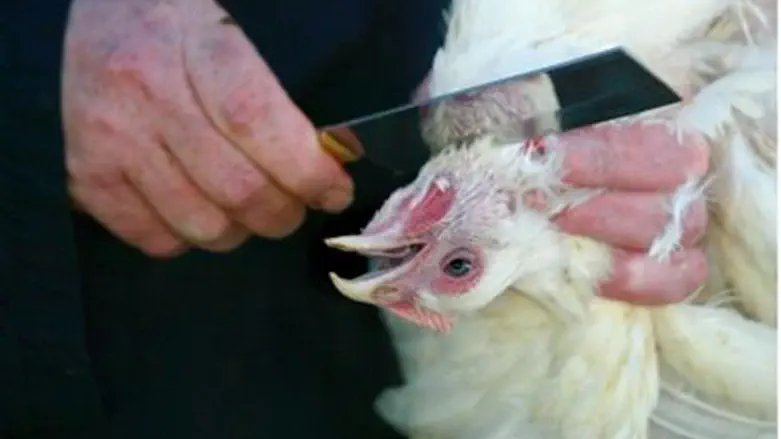 Chicken being slaughtered.
Israel news photo: Flash 90
In the first hour of Monday evening, missile fire aimed at southern Israel from Gaza began the night by killing a coop full of chickens at a kibbutz in the Gaza Belt region. The coop, located in an agricultural cooperative near Israel's southern border, took a direct hit from a short-range Qassam rocket fired  by Gaza terrorists. 
No human beings were physically injured in the attack. The coop was completely destroyed, however.
Shortly after 5 p.m., two Grad Katyusha missiles were intercepted by the Iron Dome anti-missile defense system protecting the southern city of Be'er Sheva.
A third Grad Katyusha missile exploded in the Ashkelon Coastal region, but landed in an open area, where it caused no property damage. No one was physically injured.
A short-range Qassam rocket exploded in an open area on the outskirts of the town of Sderot, barely a kilometer from Gaza. No physical injuries or property damage reported.
Mortar fire was also directed at a residential area in the Eshkol Regional Council district. No physical injuries or property damage was reported.
Two rockets that were fired at the Bnei Shimon Regional Council district both exploded in open areas, with neither causing damage or physical injuries.
The Israeli government has warned Gaza's ruling Hamas terrorist organization that it will step up its counter terror Operation Pillar of Defense offensive in the region if the rocket fire does not cease by Tuesday night.