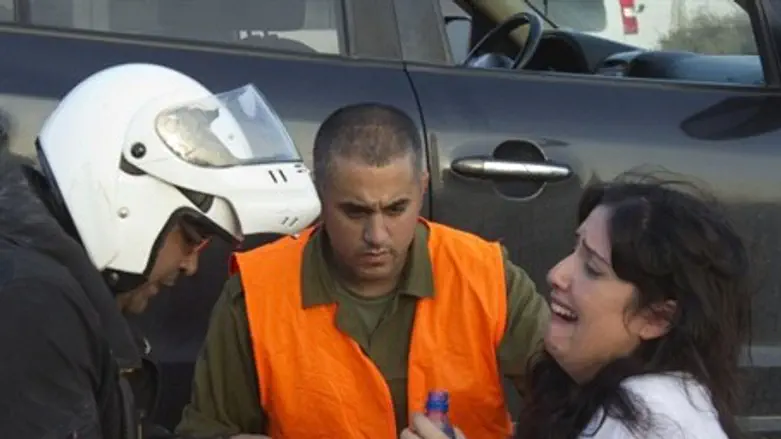 Woman reacts to rocket attack, Ofakim.
Reuters
The Negev town of Ofakim came under heavy missile fire Sunday afternoon as part of a day-long barrage launched by Gaza terrorists at southern Israel. A rocket scored a direct hit on a car, injuring one person seriously. Three others suffered light to moderate wounds. They received treatment from MDA and were evacuated to hospital.
The Iron Dome anti-missile system intercepted two missiles fired from central Gaza at Tel Aviv at about 6:40 p.m. Sunday.
Earlier, at least one medium-range rocket exploded in the small town, at about 3 p.m. One woman was injured in that attack. The victim sustained a shrapnel wound in the palm of her hand when a rocket landed in her neighborhood.
Six other residents were treated at the scene for traumatic shock in the same attack by medics from the Magen David Adom emergency medical service.
At about the same time, the Eshkol Regional Council district also came under rocket fire, with two shorter-range Qassam rockets exploding in the area.
No one was physically injured in that attack, officials reported.
IDF Chief of Staff Benny Gantz has ordered the army to continue striking Hamas terrorist targets in Gaza, and to hit more frequently, the IDF Spokesperson announced Sunday afternoon. The government has authorized Operation Pillar of Defense to move to the next level.
Earlier in the day, the IDF seized control of the Hamas radio airwaves to deliver a message to the population. "Hamas is playing with fire, and is putting your lives in danger for no purpose," the message stated. "The Israel Defense Forces is moving to the next stage."