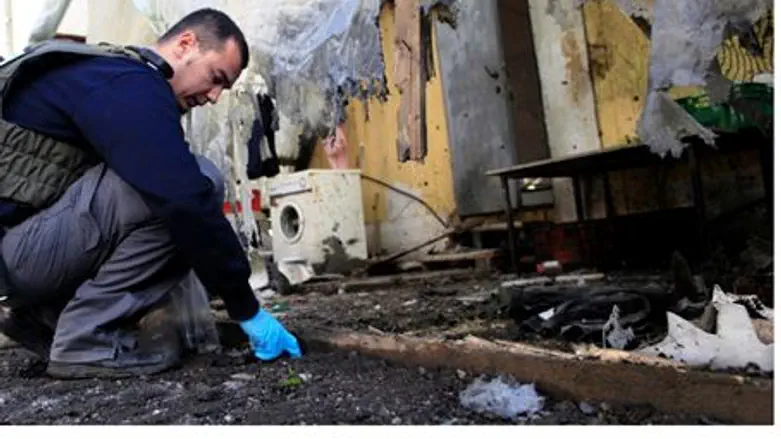 Examining mortar damage
Israel news photo: Flash 90
A firefighter was moderately wounded during an artillery attack on the Sha'ar HaNegev Regional Council district at midday Sunday. 
The first responder, a man in his 20s, suffered head wounds while the community was being shelled by Gaza terrorists. A barrage of six mortar shells were fired at the community simultaneously. The victim was treated at the scene by medics and then rushed to Soroka Medical Center in Be'er Sheva, where he was admitted in serious condition.
The attack preceded by a scant hour a barrage of Qassam rockets fired at the same area. Three short-range rockets exploded in open areas in the Sha'ar HaNegev Regional Council district barely 15 seconds after the Color Red rocket alert warning system activated.
No one was physically injured and no property damage was reported in the attack.
A similar siren sounded in the nearby town of Sderot as well, sending whichever residents had ventured out of their houses racing back to shelters and safe spaces.
In April 2011, Hamas terrorists fired a Russian-made Kornet laser-guided anti-tank missile at the back of a school bus belonging to the Sha'ar HaNegev Regional Council, almost completely incinerating the vehicle.
A 16-year-old yeshiva student was critically injured, with massive wounds to the head, neck and body. He died of his injuries 10 days later. Miraculously, he was the only passenger left on the bus, since the other students had already been dropped off. The driver escaped with only minor injuries; however, a second barrage of mortar shells was timed to coincide with the arrival of the paramedics who rushed to the scene, delaying evacuation of the wounded.
The Kornet is an accurate weapon that requires skilled use by trained personnel. The Gaza terrorist murderers who attacked the school bus and its young passenger were never caught.