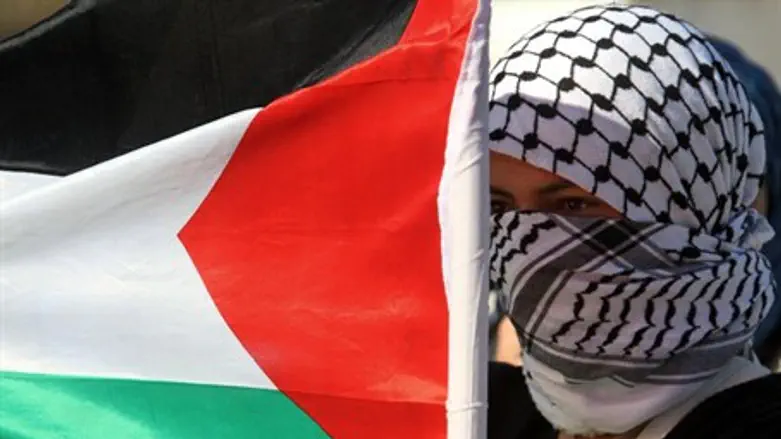 PA Arab youth protests
AFP/Jaafar Ashtiyeh
Thousands of Palestinian Authority Arabs rallied across the PA-assigned areas of Judea and Samaria on Friday, urging Hamas to "bomb Tel Aviv", AFP reported.
More than 1,000 protesters gathered in central Ramallah, shouting slogans of support for Gaza's Hamas rulers, and waving the movement's green flag, the report said.
"Hamas, bomb Tel Aviv!" they chanted, a day after a rocket from Gaza struck the sea just offshore from the coastal city.
As they protested, sirens were heard in Tel Aviv and the area for the second day running. Hamas immediately took credit for the attack, claiming to have shot "an improved Qassam."
Rockets were also fired towards Jerusalem, hitting Gush Etzion, just south of the city. There were no physical injuries or damages.
The Ramallah protesters also held up huge pictures of Hamas arch-terrorist Ahmed Jaabari, whose death in an Israeli air strike on Gaza City on Wednesday sparked the latest escalation.
Similar scenes took place in the northern city of Shechem (Nablus), reported AFP, where more than 3,000 people called on Hamas to "Bomb Tel Aviv."
Hamas flags were everywhere and angry demonstrators burned an Israeli flag, chanting "Death to Israel," an AFP reporter said.
In eastern Jerusalem, another 200 protesters gathered at the Damascus Gate into the Old City, with police arresting five for "disturbing public order," police and an AFP correspondent said.
(Arutz Sheva's North American Desk is keeping you updated until the start of Shabbat in New York. The time posted automatically on all Arutz Sheva articles, however, is Israeli time.)