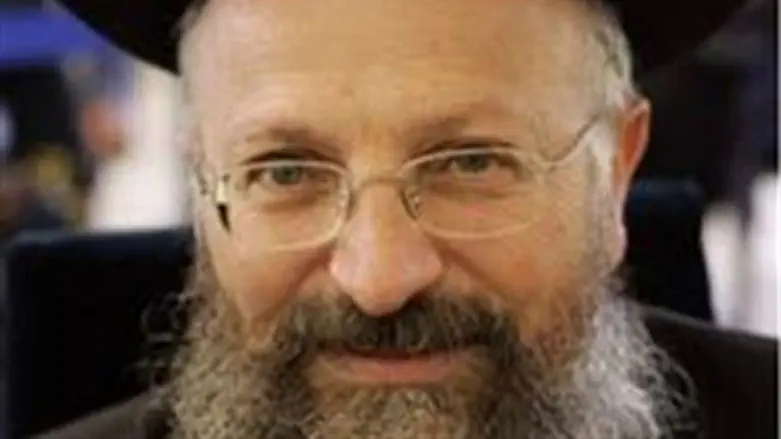 Rabbi Shmuel Eliyahu
Israel news photo: Flash 90
Rabbi Shmuel Eliyahu, the chief rabbi of Tzfat, spoke to Arutz Sheva on Friday about the relevant halacha (Jewish law) for observing the Sabbath during the ongoing rocket assault from Gaza.

He noted that during a time of war, Jews say the prayer, "Give thanks to G-d because his kindness is forever," omitting the words "because it is good" that are usually said. "Why not say 'because it is good'? Because it isn't good."

"We do our task because we have no choice, but it's important to know that we do not love war," he explained. "We want peace. But now, when we need to fight against villains like those in the Gaza strip, it is a positive commandment to fight them."

Reservists who think they may be called to service should prepare a bag with the things they need before the Sabbath, including items not used on the Sabbath such as a mobile phone, Rabbi Eliyahu said.

Soldiers who have been called to service should do whatever they are asked to do in order to prepare. "Checking ammunition, [shooting on the] firing range – everything is allowed, even though he is not certain that his unit will go into Gaza," the rabbi said.

"During the battle itself one must fight bravely with no mercy for the cruel, because those who are merciful to the cruel are ultimately cruel to the merciful," he added.

Civilians living in southern and central Israel should set their radio to the quiet channel before the Sabbath begins, he said. Those in the north should not turn on the radio, even to the quiet channel.

"In general, one should continue life as usual – go to synagogue, etc," Rabbi Eliyahu said. "If there is a rocket alarm one must take cover, even during the Amidah prayer. But in that case, stop praying, but silently, no talking. When the incident ends, return to the same place and continue from where you stopped."

Everything needed in case of rocket alarms should be prepared in advance, he noted. If a family forgot to prepare a light for the reinforced room and must take shelter during the Sabbath, and children are crying because they are afraid in the dark, a child may turn the light on, he said.

Rabbi Eliyahu concluded with good wishes for the nation. "May G-d watch over and protect and save and take mercy on all of his sons and daughters, on the people of Israel, on all the soldiers. May He give wisdom and knowledge to the commanders to make the right decisions, courage to our leaders to protect the people of Israel without fearing the nations of the world at all," he said.