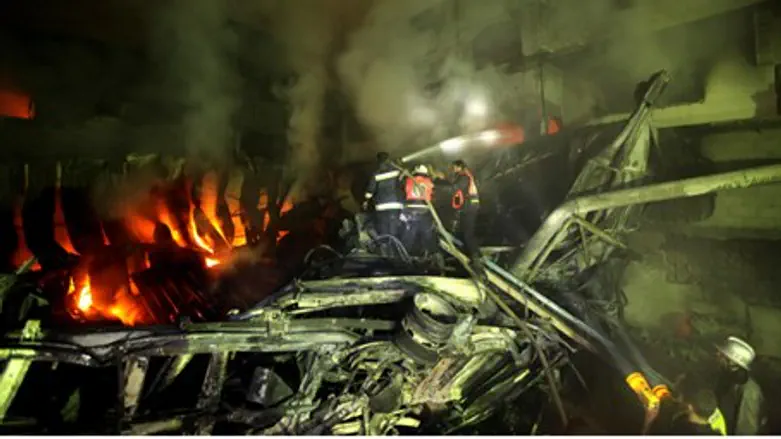 Aftermath of IAF airstrike in Gaza
Flash 90
IAF aircraft conducted several airstrikes in Gaza on Monday night, hitting at least three targets.
According to a statement by the IDF Spokesperson's Unit, the aircraft struck two rocket launching sites in northern Gaza and a weapons storage site in central Gaza. The attack, noted the statement, is a response to the continued rocket fire by Gaza-based terrorists into Israeli territory.
Direct hits were identified and all Israeli aircraft returned safely to their bases.
"The IDF will not tolerate any attempt to harm Israeli citizens and IDF soldiers and will continue to operate against anyone who uses terror against the State of Israel," said the IDF statement, laying the blame for any Gaza terrorist attacks on its Hamas rulers.
Southern Israel's residents continued to be targeted by rockets and missiles on Monday, as thousands of children had to spend the day in shelters and protected spaces.
On Monday afternoon, a Grad missile fired by Gaza terrorists exploded next to a factory in the industrial zone of Netivot. Six people suffered from shock as a result of the attack. Witnesses said that there was a great deal of damage to the structure.
This was the second attack on the city Monday; earlier, a rocket fired at the city exploded in a residential neighborhood. That rocket caused a great deal of damage, gutting a shop near where the rocket exploded. 26 people were treated by medical personnel after going into shock, with some needing extensive treatment at a trauma center.
The Gaza-based terrorists agreed on Monday evening to accept an Egyptian initiative for a ceasefire. However, the terrorists, as they usually do, conditioned the ceasefire on Israel stopping what they termed its "continued aggression in Gaza".
Hamas spokesman Sami Abu Zuhri said that Israel is to be blamed for the current round of escalation. Hamas has declared dozens of similar ceasefires over the years and they have never been upheld.
The Home Front Command, hoping that the ceasefire will hold this time, announced late on Monday night that schools in the Gaza belt will operate as usual on Tuesday.
This, however, is subject to change on Tuesday morning, should the rocket attacks by Gaza terrorists continue.
Meanwhile, a special assessment was held at the Prime Minister's Office in Jerusalem on Monday evening. It was attended by Defense Minister Ehud Barak, IDF Chief of Staff Benny Gantz and senior officers. During the meeting it was agreed that Israel would increase the intensity of its response to the ongoing rocket fire towards the south.
Prime Minister Binyamin Netanyahu will meet with his nine senior ministers on Tuesday morning to discuss other alternatives to deal with the situation in the south, the report said.