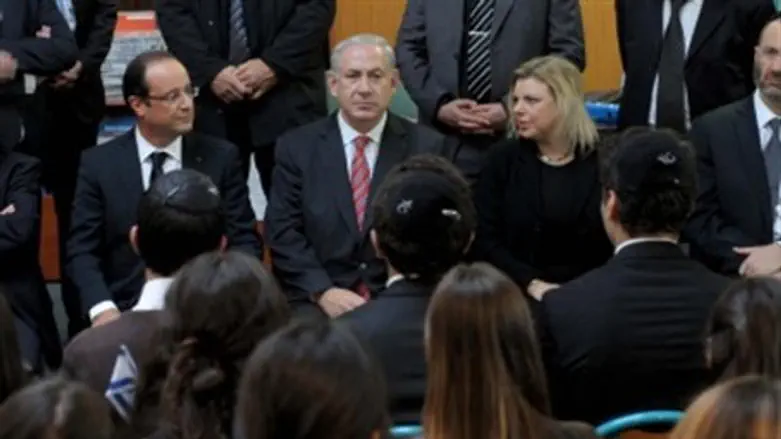 Netanyahu at Toulouse
Avi Ohayon, GPO
Mohammed Merah, the terrorist who shot up a Jewish school in Toulouse, France earlier this year, was "brainwashed" to hate Jews by his family, says Merah's brother, Abdelghani Merah. His parents, and especially his mother, were essentially responsible for Mohammed's actions, said the brother. He is writing a book on the matter, called "My Brother, That Terrorist."
Mohammed Merah murdered Rabbi Yonatan Sandler, along with his sons Aryeh and Gavriel and Miriam Monsonego. Before that, he murdered three Muslim paratroopers of North African heritage. Merah was ultimately killed when he tried to flee a raid on his apartment. Merah claimed he had links to al-Qaeda and that he had received training at an Islamist military training camp in Pakistan.
According to French daily Le Figaro, Abdelghani Merah swore at his brother's funeral to reveal to the world what lay behind Mohammed Merah's actions. In an interview with Belgian media, Abdelghani Merah said that he hoped to explain "how our parents educated us in an atmosphere of racism and hatred, and how the Salafists converted Mohammed to become a terrorist.
"My mother always used to tell us that 'we Arabs were born to hate the Jews,'" Abdelghani Merah said. "I heard that speech many times as I was growing up." He added that while he himself strongly condemned the attack, other members of the family were proud of Mohammed. Mohammed Merah's mother was arrested at some point, but was later released. His father has left the family and returned to Algeria years ago, but that hasn't stopped him from filing a lawsuit against France over the death of his son.
Last week, French President Francois Hollande and Israeli Prime Minister Binyamin Netanyahu and his wife met in Toulouse to visit the school and meet with the families of the victims of the March terrorist attack. Both Hollande and Netanyahu pledged to fight anti-Semitism, both in France and globally. During the meeting, Netanyahu said, "The fact that we are standing here together, the French President and Prime Minister of Israel, says everything about our partnership in the war against terrorism, against racism and against violence."