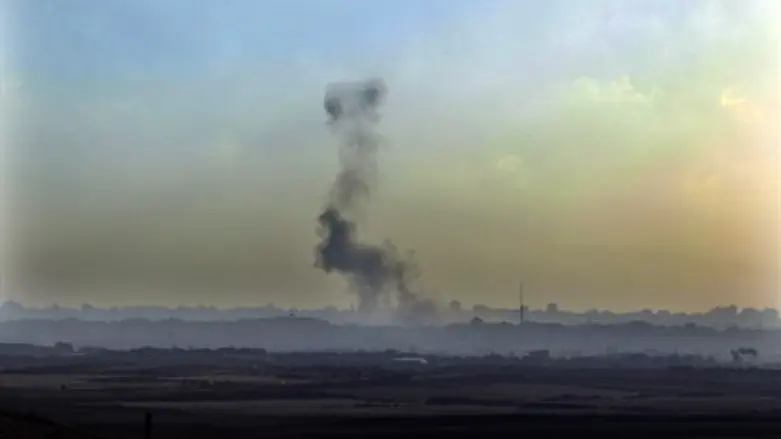 IAF air strike in Gaza
Flash 90
IAF aircraft attacked on Saturday night a terrorist squad in northern Gaza that was in the midst of an attempt to fire rockets at southern Israel.
The IDF said in a statement that a direct hit was detected. Sources in the Palestinian Authority said that a terrorist from the Islamic Jihad group was killed in the airstrike.
The airstrike took place after a barrage of rockets hit Israeli territory throughout the evening.  At least 30 rockets had been fired at southern Israel. In all cases there were no physical injuries. One vehicle sustained damage in a rocket attack in the western Negev. As well, one rocket that exploded between two houses in the Eshkol Regional Council hit a power line. Part of the area lost power as a result, but there were no physical injuries.
The Home Front Command has ordered residents of communities near Gaza to stay within 15 seconds of a protected space.
Earlier on Saturday, Gaza terrorists hit an IDF jeep with an anti-tank missile. The IDF Spokesman announced that four soldiers were hurt.
One soldier was very seriously wounded and another soldier suffered moderate-to-serious wounds. Both were evacuated to Soroka Hospital in Be'er Sheva.
Two other soldiers were in light to moderate condition, suffering from shrapnel wounds. They were evacuated to Barzilai Hospital in Ashkelon.
According to a Channel 2 News report, the Popular Front for the Liberation of Palestine has taken responsibility for attacking the jeep.
The IDF responded with heavy tank fire at the eastern part of Gaza and at an area east of Khan Younis. There were also reports of artillery fire and fire from helicopters.
By 9:00 p.m., reports said three Arabs were killed and 29 were wounded in Israeli counterstrikes on Gaza.
Defense Minister Ehud Barak said following Saturday's fighting, "The IDF has given a stern response to the event and additional responses will be evaluated in the next few days. We will not look the other way following the escalation along the security fence."