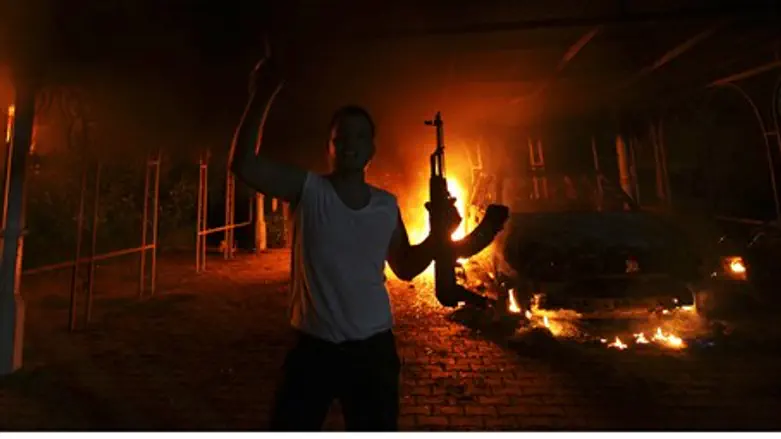 File photo shows a protester reacting as the
Reuters
The U.S. House Intelligence Committee is planning to hold a closed hearing next week to discuss the brutal attack on the U.S. Consulate in Benghazi, Libya, which resulted in the murder of Ambassador Chris Stevens and three other Americans.
The head of the CIA, David Petraeus, Director of National Intelligence James Clapper and the director of the National Counterterrorism Center, Matthew Olson, are expected to testify at the hearing, which will be held November 15.
Clapper has sent to the committee a compilation of raw intelligence and analysis pertaining to an internal review that he conducted of the U.S.-generated intelligence that agencies had access to before and after the attack, as well as information about the attackers, The Hill reported.
"The whole purpose of the hearing is to have members hear for themselves what went on and ask questions about how it occurred, why it occurred, what information came out, why we got certain initial information, and just to make sure we get to the bottom of this to make sure it won't occur again," said Rep. Dutch Ruppersberger (D-Md.), the panel's ranking member, in a phone interview with The Hill.
Republicans have been criticizing the Obama administration for intentionally downplaying the attack's terrorist nature in order to maintain the narrative that Al Qaeda is on the run. Officials had initially suggested that the attack was merely the result of "spontaneous" violence that erupted in response to an anti-Islam film produced in the United States—an account which was later revealed to be inaccurate.
The Obama administration also has faced questions as to why it didn't do more to protect the consulate and the ambassador, especially in light of evidence that requests earlier this year for security reinforcements were denied.
Other evidence suggests U.S. officials were aware in the days prior to the attack that terrorism was a growing threat in Libya and that the consulate would be unable to withstand a coordinated attack.
Obama has vowed that the administration would take all necessary measures to bring the perpetrators of the to justice, and Secretary of State Hillary Clinton, who has taken responsibility for any security failures, reiterated that a full investigation of the attack remains under way.
The FBI only last week was granted access by Tunisia to one of the suspected attackers, who is being held in the country after his arrest at an airport in Turkey shortly after the Libya attack.