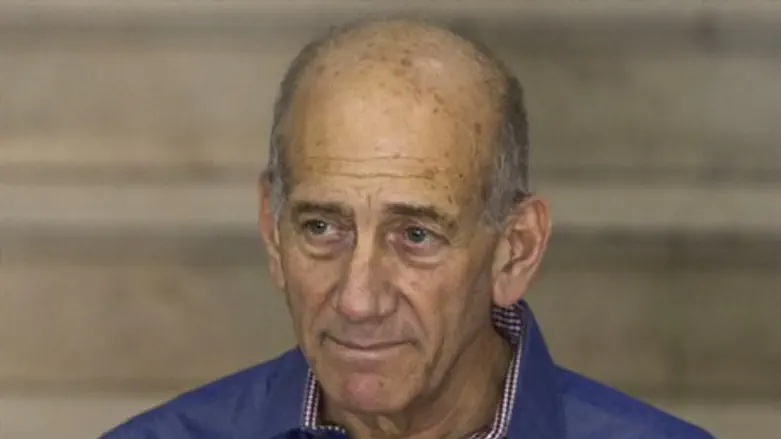 Ehud Olmert
Flash 90
Despite the prosecution's appeal in his case, it appears as though former Prime Minister Ehud Olmert is planning to run in January's election, Channel 10 News reported on Wednesday.
According to the report, Olmert's associates have said that it may be a matter of a few days before the former Prime Minister announces he is running. Earlier on Wednesday, the State Prosecutor's Office appealed to the Supreme Court over Olmert's verdict and light sentence.
Meanwhile, reported Channel 10, Olmert is already preparing for a possible election run and on Wednesday he lashed out at Prime Minister Binyamin Netanyahu during a conference of the World Jewish Congress.
"Our prime minister intervened in the U.S. elections on behalf of an American billionaire," Olmert accused, referring to philanthropist Sheldon Adelson, one of Republican candidate Mitt Romney's greatest supporters and a close friend of Netanyahu's. He added, "After what Netanyahu did in recent months, the question that arises is whether our Prime Minister has a friend in the White House. I'm not sure that he does and this could be very significant for us at critical points."
He said, "It is the Israeli Prime Minister's right to have a preference for one candidate or another, but of course it is better to keep it to himself."
Olmert's attack on Netanyahu is the latest in a series of attacks in the past week. On Sunday, the former Prime Minister blamed Netanyahu of strengthening Hamas, following Palestinian Authority chairman Mahmoud Abbas' seemingly moderate statements on Israel's Channel 2 News.
"Unfortunately, since the change of government in Israel, negotiations with the Palestinians have been frozen and there has been an effort to prove to the Israeli public that there is no partner on the Palestinian side," Olmert said.
"Instead," Olmert charged, "the government of Israel took a series of steps that strengthen Hamas and weaken the Palestinian Authority headed by Mahmoud Abbas – an authority that believes in nonviolence and negotiations for peace."
On Monday, Olmert attacked Netanyahu over his threat to attack Iran without the support of the United States.
"What is this talk about us being the ones to decide alone about our fate and not take anyone else into account?" said Olmert. "Someone please explain to me exactly with what planes we'll attack if we decide to attack alone contrary to the opinion of others? Will it be aircraft we created here? With which bombs we will bomb? With bombs we made? And if we find that we are missing something, who will we ask for it? Those in the face of whom we spit today? The one that we have done everything to ensure that he will not be president of the United States?"
Several weeks ago Olmert and former Kadima chairwoman Tzipi Livni, who are likely to run together, publicly called for "a government change" in Israel.
Vice Prime Minister Moshe Ya'alon criticized Olmert and Livni for their comments in an interview with Arutz Sheva this week.
"Unfortunately there are Israeli politicians who are trying to use self-deception to believe that the problem is on our side," Ya'alon said about Olmert and Livni's comments blaming Netanyahu, not Abbas, for the stalemate in the peace process. He noted that Olmert made a groundbreaking offer to Abbas in 2008, which included offering him 94 percent of Judea and Samaria, a shared jurisdiction of Jerusalem, and allowing 5,000 PA Arabs who left their homes in 1948 back into Israel. Abbas rejected the offer.