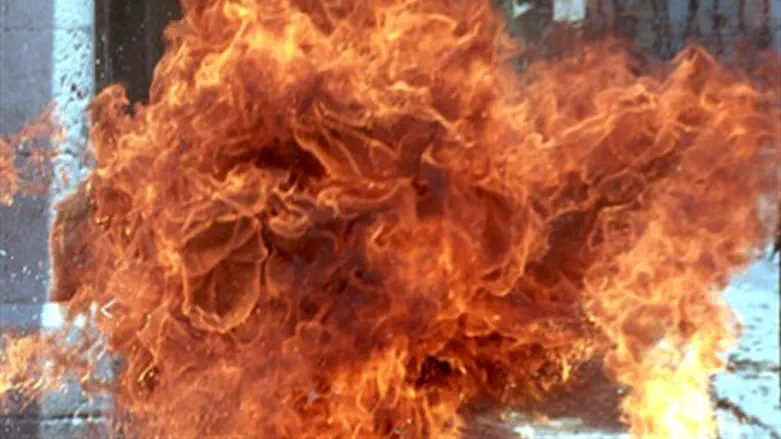 Firebomb explosion (illustrative)
Israel news photo: Flash 90
Two vehicles caught fire on Wednesday night in Jerusalem's French Hill neighborhood. Firefighters who arrived on the scene said that flammable material, maybe a firebomb, had been thrown at the vehicles.
The vehicles sustained severe damage but there were no injuries.
Police said they believe that Arabs carried out the attack and added they were searching for the culprits.
The latest incident occurred one day after a Border Police officer was wounded when Arabs in the Shuafat area of Jerusalem rioted. The officer was stabbed by one of the rioters. At least seven other officers were injured by rocks thrown by the rioters.
Three of the officers, including the stabbing victim, were taken to a nearby hospital for treatment, as was the attacker who allegedly stabbed the officer.
On Friday night, a 35-year-old Jewish man was stabbed and moderately wounded at the Ras al-Amud Square in eastern Jerusalem.
The man was making his way with a friend from the Western Wall to his house, when suddenly two Arabs attacked them and stabbed the man in the back.
As a response to the stabbing attack, Jews confronted Arabs outside the Jerusalem neighborhood of Maaleh Zeitim on Saturday night.
Jerusalem activist Aryeh King said that more than 50 Jews have been attacked in the same spot outside the neighborhood in the past two years. Residents demanded that police establish a deterrent presence in the location.