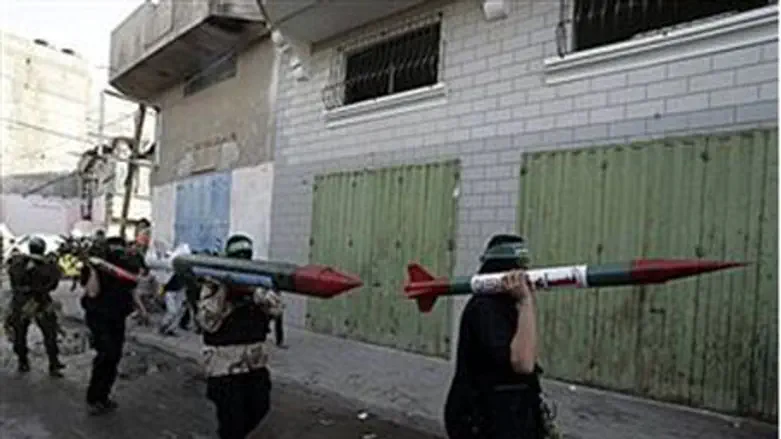 Hamas terrorists
Flash 90
The U.S. Treasury Department on Monday dropped its sanctions against the only resident American citizen believed to be labeled a "specially designated terrorist", The Hill reported.
Mohammed Salah, a resident of Illinois, was designated a terrorist in 1995, for allegedly having ties to Hamas, according to a lawsuit filed in September. As a result, all of his financial assets were frozen.
According to The Hill, the suit alleges that for 17 years Salah had been forced to obey strict federal requirements that have made it impossible for him to hold a job, volunteer for a political campaign or even give money to charity, in violation of his rights.
"As a result of the designation, Salah has lived under incredibly onerous restrictions, which bar virtually all economic transactions, even those necessary for survival," the Center for Constitutional Rights, which is representing Salah, said in a statement announcing the lawsuit. "Mr. Salah is not permitted to get a job, pay rent, obtain medical care, or even buy a loaf of bread – without first obtaining approval from the Treasury Department, which has unfetterd discretion to impose these harsh sanctions."
Salah was in an Israeli prison at the time of his designation, charged with assisting Hamas in 1993 — before the group was labeled a terrorist organization by the U.S. federal government. Then-President Bill Clinton designated the group a terrorist organization in January 1995, six months before Salah's name was added to the list.
He was released in 1997 and returned to his hometown in Illinois.
The lawsuit states that Salah was never informed of the legal and factual basis for his designation, which froze his U.S.-based financial assets and made it a crime for Americans to offer him assistance of any kind.
The Treasury Department issued a cursory statement about the decision on Monday but did not comment further due to the pending litigation.
"A designated person has the option to, at any time, seek administrative reconsideration of the designation. Mr. Salah chose not to avail himself of that process and instead filed suit against OFAC to be delisted," a Treasury spokesman told The Hill via email. 
"In evaluating its response to Mr. Salah's complaint, [the Office of Foreign Asset Controls] determined that it was appropriate to remove Mr. Salah from the list of Specially Designated Nationals and Blocked Persons ("SDN List") based on current circumstances ... As a result, any property that was blocked solely as a result of Mr. Salah's designation pursuant to E.O. 12947 is now unblocked, and U.S. persons may engage in all lawful transactions with him."