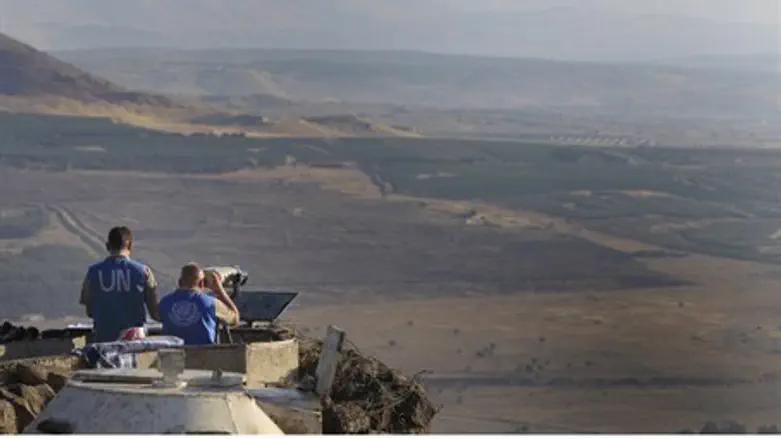 View from the Golan
Israel news photo: Flash 90
An Israeli military jeep was hit Monday by Syrian gunfire on the Golan Heights, AFP reported. IDF soldiers were patrolling this evening near the northern border when they came under gunfire from the Syrian side of the border. The IDF Spokesperson told Arutz Sheva there were no casualties and that the incident is under investigation.
According to the IDF, the gunfire also most likely came as the result of the internal civil war in Syria, and was not due to deliberate aggression against Israel on the part of Damascus.  "Apparently they were stray bullets, and there were no injuries" to those aboard the vehicle, a military spokesman told AFP.
 Israel informed the United Nations force in the region.
IDF Chief of Staff Benny Gantz warned Sunday that Syria's civil war might soon become "an Israeli matter" if military spillover continues. IDF Division 36 soldiers who are stationed on the Golan Heights reported to Gantz they can hear shouts and gunfire from across the border.
"The division is ready for any moment in which those shots might change direction and be turned on us," said IDF Spokesperson Brig.-Gen. Yoav Mordechai, who was escorting Gantz at the time. 
Last Saturday three Syrian tanks entered the demilitarized zone between Syrian and Israeli territory on the Golan Heights.
The tanks, which belong to Syrian President Bashar al-Assad's forces, entered the village of Bir Ajam, a short distance away from an IDF position while allegedly maneuvering as part of the fighting between Assad and rebel forces. 
Israel lodged a formal complaint with the U.N. for the second time this year.
Syria remains formally at war with Israel, which captured part of the Golan Heights in the 1967 Six Day War, and annexed it in 1981 in a move the international community does not recognize.
Since a 1974 disengagement agreement between the two countries, a 1,200-member unarmed U.N. force has patrolled a demilitarized buffer zone on the Heights. In July, Israel complained to the U.N. after Syrian soldiers entered the zone in violation of the agreement.