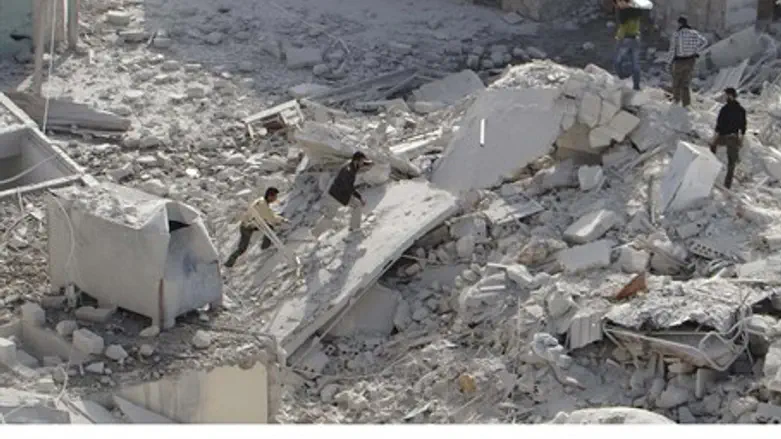 Aftermath of Syrian Air Force strikes near Id
Reuters
At least 50 are dead following a massive suicide bombing in central Syria, activists and state media report.

"At least 50 government troops and loyalist militiamen were killed this morning in a car bomb explosion near a military post in the village of Ziyara," UK-based Syrian Observatory for Human Rights director Rami Abdel Rahman told the AFP news agency by phone.
Ziyara is located in the central Syrian province of Hama.
A 50-kilogram (110-pound) bomb also exploded near a hotel in a heavily guarded district in the capital of Damascus, and near army and security compounds, Syrian television reported.
The blast was allegedly carried out by the Ahfad al-Rasoul (Grandsons of the Prophet) Brigade, according to local media reports. The group is a Sunni Muslim group that has attacked military and intelligence targets several times over the past several months.

Government troops killed 179 Syrians on Sunday, most of whom were civilians, according to the Syrian Network for Human Rights, an activist organization.
The dead included 14 women and 20 children, and were killed in shelling by the Syrian army aimed at Damascus suburbs. Some of those killed were also rebels who fell in battle around the capital and in the northern provinces of Aleppo and Idlib. 
It is difficult to verify reports, however, since journalists' access in Syria is severely restricted by the government of President Bashar al-Assad.