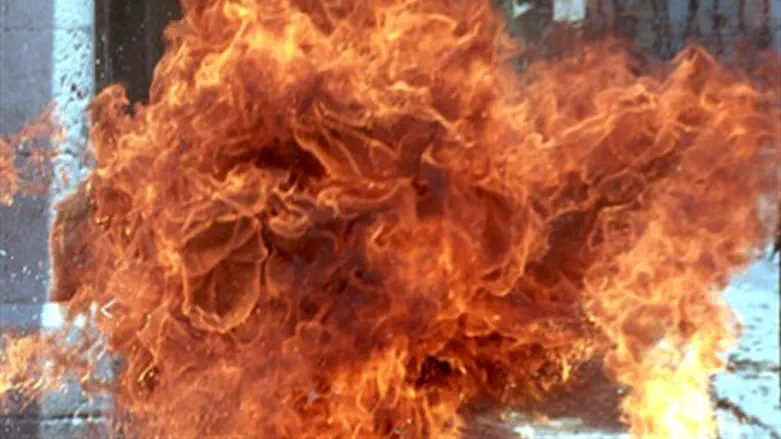 Firebomb explosion (illustrative)
Israel news photo: Flash 90
Firebomb attacks continued to be the most common form of terrorism in Judea and Samaria during the month of October, according to the monthly report by the Israel Security Agency (Shin Bet).
The report, which reviews the number and nature of terror attacks each month, found that that 68 out of 70 terror attacks in Judea and Samaria during October were firebomb attacks. In addition, there was one stabbing attack and one attack using explosives.
The figure is similar to statistics for the month of September, when 65 attacks out of 67 in Judea and Samaria were firebomb attacks.
The report also found that there were 31 attacks in Jerusalem in October, compared to 28 in September. In Jerusalem, too, most were firebomb attacks.
The Shin Bet noted there was not a significant change in the number of attacks in Judea and Samaria. In Gaza, however, an increase was recorded in attacks, specifically because of the recent escalation in rocket attacks from Gaza at southern Israel.
The report noted that there were 96 terror attacks in Gaza in October, compared to 23 in September. 116 rockets and 55 mortar shells in 92 attacks were fired at Israel in October. In September, 17 rockets and eight mortar shells were fired at Israel from Gaza.
The report also noted the attack by Hamas terrorists on an Israeli aircraft which flew over Gaza using shoulder-mounted anti-aircraft missiles. It was the first time such an attack took place, noted the Shin Bet.
The missiles missed their mark so no injuries or damage were reported. Air Force sources said the missiles were apparently of the Strela SA7 variety, although it could have been a different missile. The smuggling of such weapons into Gaza has been rumored for years, since the use of shoulder-mounted weapons in an attack on an Israeli passenger jet in Kenya, which also failed.
Road terror has been on the rise in Judea and Samaria. In addition to firebombs, Israeli motorists have been targeted by rocks thrown by Palestinian Authority Arabs.
Several weeks ago, Zuriel Barzilai, a resident of Modi'in, recalled in a conversation with Arutz Sheva how his vehicle was targeted by a firebomb as he was making his way from Talmon to Jerusalem.
"We were at a family event Talmon. At nine in the evening we headed to a different event in Jerusalem, and as we went down from Talmon and started slowing down to make a turn we saw fire coming towards the vehicle," recalled Barzilai. "The fire hit the windshield on the right. We did not understand what was happening. Those moments were very traumatic. The intersection was dark but when the firebomb flew everything lit up. I thought I was driving into burning tires and may have stumbled on an Arab demonstration."
He added, "It is a sense of helplessness. There was no security, no patrols. We do not know how to behave in moments like this."