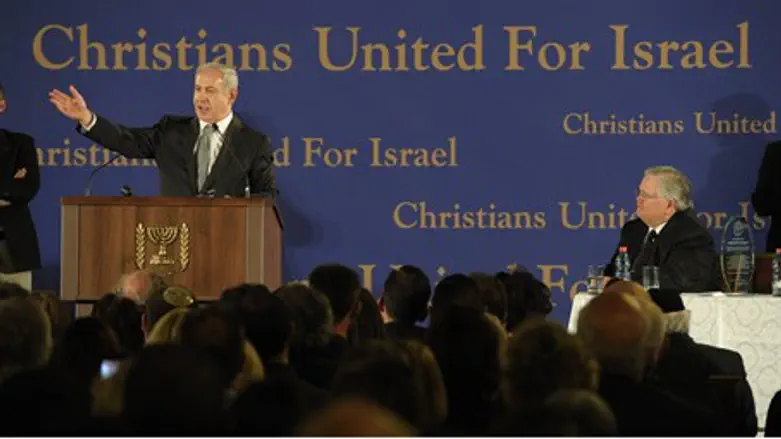 PM Netanyahu speaks at CUFI event
Flash 90
Thousands of Christian Zionists gathered at a Texas megachurch on Sunday night to rally in support for Israel, the San Antonio Express-News reported.
Pastor John Hagee, noted television evangelist and founder of Christians United for Israel (CUFI), organized the event and reaffirmed the organization's belief that the defense of Israel as a Jewish homeland and a strong U.S.-Israel bond provides the world with the greatest chance at peace and stability in the Middle East.
"The day America turns its back on Israel, that day God will turn his back on the United States of America," Hagee told the audience.
With more than one million members, CUFI is America's largest pro-Israel organization, according to its website.
Sunday's "Night to Honor Israel", which brought together rabbis, Christian ministers and Israeli representatives, marked the 31st year the event was held at San Antonio's Cornerstone Church.
Some waved American and Israeli flags while listening to speeches, singing songs and reciting prayers. There was also frequent cheering and clapping as the noted speakers rejecting candidates for U.S. office who have not held Israel's enemies-- most notably Iran-- accountable for seeking the destruction of the Jewish state.
The event raised nearly $3 million to support Jewish and Israeli charities.
"Such donations and commitment to seek favorable political leadership are reasons to hope," said Meir Shlomo, consul general of Israel to the Southwest.
"We all know you have our back covered," he said, prompting a prolonged standing ovation.