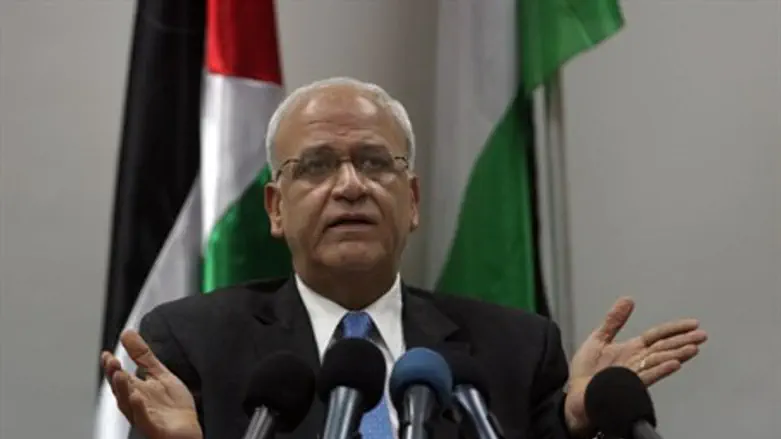 Saeb Erekat
Israel news photo: Flash 90
An official with the Palestinian Authority claimed on Wednesday that a freeze on Jewish construction in Judea and Samaria was an Israeli obligation, not a condition set by the PA.
"We are not placing any conditions on the resumption of negotiations," PA negotiator Saeb Erekat told AFP, after French President Francois Hollande called for a resumption of peace talks without preconditions between Israel and the PA.
"Prime Minister Benjamin Netanyahu and President Francois Hollande both know perfectly well that a settlement freeze is not a Palestinian condition but an Israeli commitment," Erekat added.
"Our demands are not conditions; we are merely asking that Israel honor its commitments, beginning with a settlement freeze and the release of Palestinian prisoners," he said.
"We appeal to Netanyahu to say very clearly to us and to the world that he is committed to the principle of a two-state solution based on" the pre-1967 borders.
In a concession to Abbas' demands, Israel imposed a nine-month freeze on Jewish construction in 2010. Abbas, however, rejected returning to talks because, he said at the time, the freeze did not extend to all of Jerusalem.
Abbas has constantly imposed preconditions on peace talks, demanding that Israel accept the indefensible pre-1967 lines as final borders, release all Arab terrorists from its jails, and halt construction in Judea, Samaria and east Jerusalem for a second time before talks begin. At the same time, he has refused to recognize Israel's right to exist.
Rather than talking to Israel, Abbas has preferred unilateral moves, such as asking the United Nations General Assembly to grant it "super-observer" status that could give it access to UN institutions and agencies.
The PA Chairman has claimed that the UN bid is not a substitute for peace talks and said the PA is ready to resume negotiations with Israel after it is recognized by the UN.
Erekat's comments came after Hollande held talks with Netanyahu in Paris on Wednesday, his first with the Israeli Prime Minister since taking office five months ago.
At a joint news conference afterwards, the French president called for a resumption of peace talks without preconditions.
"Only negotiations can lead to a definitive solution," he said, according to AFP, and added, "France wants the resumption of talks between Israel and the Palestinians without conditions and with the same goal -- one we have been pursuing for years, even decades, two states, a state of Israel where security if guaranteed and a Palestinian state which must be allowed to live."