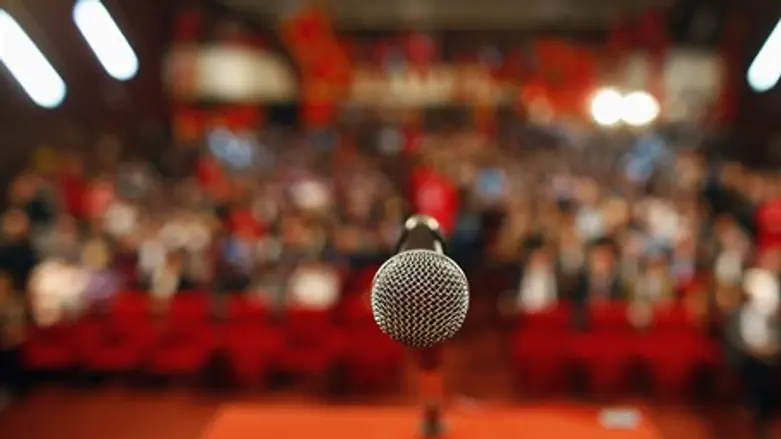 A microphone on stage
Reuters
A popular Irish broadcaster and columnist refuted accusations that he is anti-Semitic, after calling Israel "the cancer in foreign affairs" during a broadcast.
"Israel is the cancer in foreign affairs. It polarizes the Islamic community of the world against the rest of the world," Vincent Browne said last week on his TV3 channel show, "Tonight with Vincent Browne."
"Unless you deal with the problem of Israel and the Palestinians in that part of the world, there's going to be conflict and disharmony. It's a massive injustice -- they stole the land from the Arabs," he said.
According to the Irish Independent, Browne said he would not apologize for the remarks, claiming his comments were justified.
"What I resent is the suggestion that because you're critical of Israel, you're automatically anti-Semitic. I don't think that's acceptable," he told the newspaper.
Israel's deputy ambassador to Ireland Nurit Tinari-Modai said that the embassy had received calls and e-mails lambasting the remarks.
"We today received phone calls and emails from outraged Irish people who intend to complain about Mr. Brown's ongoing hateful comments towards the Jewish people and the Jewish state," she told the Jewish Chronicle (JC).
No complaints have been lodged thus far against the broadcast, a TV3 spokesman told the Independent.
My grandparents were brutally murdered on European soil during the Holocaust," she told the JC. "I would never believed that the day would have come when a presented on Irish TV station would make racist, anti-Semitic remarks."
She said that the embassy had approached TV3 and offered to provide a pro-Israel guest to appear on the program, "but regrettably the show declined."