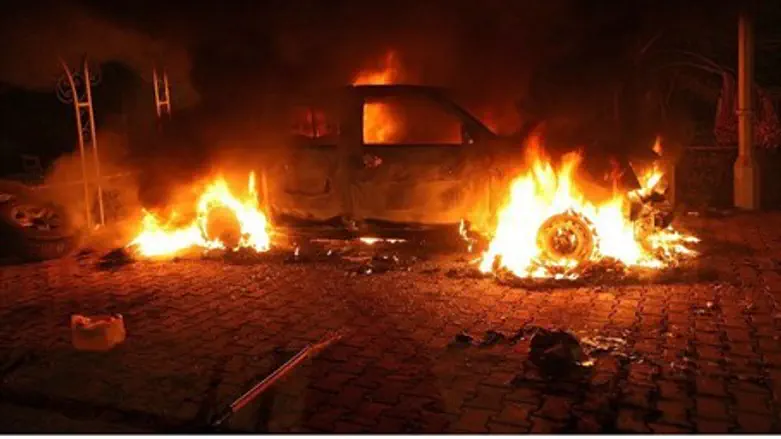 Fire near U.S. consulate in Benghazi
AFP/File
The September 11 attack in Benghazi, Libya, targeted more than just a State Department consulate. One of the buildings hit was a covert CIA installation, U.S. officials told Fox News on Monday.
The now-abandoned American consulate in Benghazi was set a little more than a mile away from the CIA base, the officials said. Up to this point, that separate base was described by administration officials only as a "safe house" or "annex" to the nearby consulate. In reality, CIA agents and other intelligence officials were operating out of Benghazi conducting delicate missions, including the search for over 20,000 deadly shoulder-fired missiles previously owned by Muammar Qaddafi's Libyan forces.
The work they conducted to seize those deadly weapons, known as MANPADS, was part of a broader and public effort by the State Department to secure them, according to Fox News. The major concern is those weapons could be used to bring down a commercial jet.
These officials added that the number of CIA operatives in Benghazi clearly outnumbered that of the diplomatic staff.  It took two military cargo aircraft to lift everyone out of Benghazi when the fighting was over, they claimed.
Both the CIA outpost and the consulate were attacked on September 11. Two of the men killed, Glen Doherty and Tyrone Woods, were hit by indirect fire while defending the intelligence post, not the consulate.
One witness told Fox News that Doherty and Woods were found on the roof of the intelligence base manning a single machine gun that was caked in blood, suggesting they continued firing after they were hit by a mortar round approximately seven hours after the attack began.
U.S. Ambassador Chris Stevens and information analyst Sean Smith were also killed in the attack hours earlier at the consulate.
Revelations concerning just how sensitive operations were in Benghazi began to trickle out during the House oversight committee hearing two weeks ago with witnesses Charlene Lamb, a State Department official who heads diplomatic security, and Ambassador Patrick Kennedy, undersecretary for management at State, Fox News reported.
As part of their testimony, the two presented a map of Benghazi that clearly labeled and located the so-called annex. Rep. Jason Chaffetz, R-Utah, and committee Chairman Darrell Issa, R-Calif., both called a point of order, complaining that the map included information they were specifically instructed not to talk about.
In the immediate aftermath of the attack, Obama administration officials said it appeared to be linked to protests in the Muslim world against a film shot by American-based activists and deemed insulting to the Islamic faith.
It has since emerged that the prime suspects in the attack are terrorists with links to Al-Qaeda.
State Department officials testified at the hearing last week that requests for additional security in Benghazi were turned down by their superiors.
Secretary of State Hillary Clinton took the blame for the fiasco over the Benghazi attack last week.
"I take responsibility," she said, adding, "I'm in charge of the State Department -- 60,000 plus people all over the world, 275 posts."