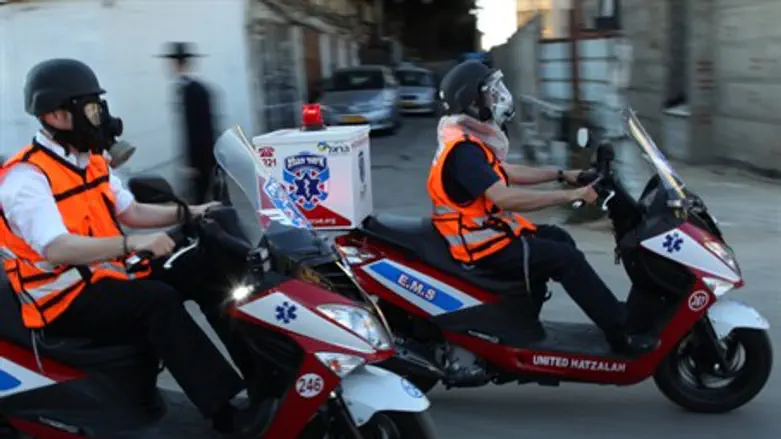 Archve: United Hatzalah in Action
Flash 90

One of the most important moments in a Jewish man's life is his Sabbath Chatan, called an "Ufruf" in Yiddish - meaning being called to the Torah. This is an honor given to a prospective groom the Sabbath before his wedding in Ashkenazic synagogues - and the Sabbath following the wedding in Sephardic ones - the congregation sings a special joyous melody after he finishes the blessings and pelts him with candies, in most synagogues..
Arie Jaffe, one of United Hatzalah's volunteer paramedics celebrated this special occasion this past Saturday in Jerusalem's Great Synagogue.

He just finished his reading from the Torah and was about to descend from the bimah, according to United Hatzalah's report, hundreds of eyes following every move of his. No wonder – he wasn't just the future groom, the star of the day, but also the grandson of one of the founders of the congregation and the son of the leader of the synagogue's famous choir.

He could hardly make it to his seat when he felt his MIRS vibrating on his belt, which could only mean one thing: there was an emergency in his immediate neighborhood. The message was followed by shouts from the street. Arie did not need more.
Forgetting the celebration, leaving hundreds of onlookers and Jerusalem's biggest synagogue without a second to explain, he ran out of the building to find an elderly member of the congregation lying on the road.

The 97-year-old had left the service early and was hit by a car while crossing the road with his caregiver. The caregiver had time to jump – but the elderly man was unable to follow suit and was seriously injured.
"I began to resuscitate immediately and was soon joined by my brothers and cousins – all medics themselves," recalls Arie. "They also fetched the necessary equipment."
Following the arrival of an ambulance the man was transferred to the Hadassa Ein Kerem in very serious condition.

According to the tradition followed in the Great Synagogue of Jerusalem, following the "aliyah" - calling up to the Torah -  of a husband-to-be, the sexton wishes good luck to the young man and makes a small speech – addressing the bridegroom and his family. This time the speech was a bit different, since the addressee was not present.
Those, who knew Arie knew where he had gone. And knew that there was nothing that could have stopped him.
"It is difficult to describe the transition between standing on the bima, and being showered by candies and standing on the street resuscitating someone just a minute later," says Aryeh. "But that's exactly why I am doing it. It is my mission – if I can save a life, I will do it, no matter what. On the other hand I had to promise my kallah that on the day of the wedding my MIRS will be switched off from 3 PM until after the event."