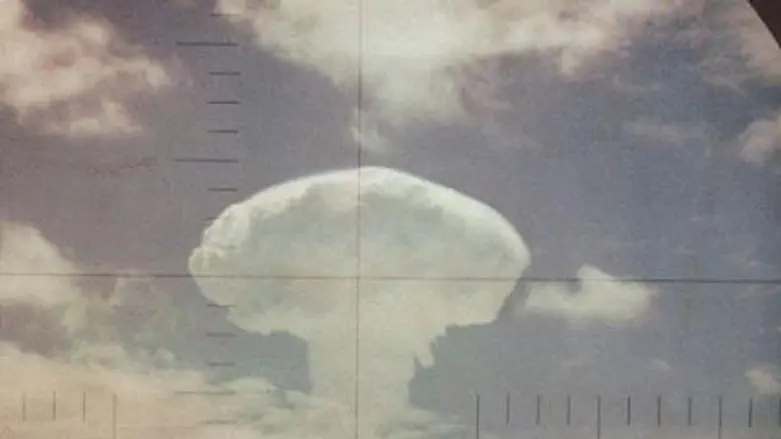 Nuclear cloud
Israel news photo: US Navy
Most Egyptians want their country and Iran to have nuclear weapons, and they also favor renewing ties with Tehran and breaking off relations with Israel, according to a poll by The Israel Project, a pro-Israel advocacy group.
Eighty-seven percent of the respondents want Egypt to have its own nuclear bomb, and Iran is more than happy to lend Cairo a hand.  "We are ready to help Egypt to build nuclear reactors and satellites," Iran's deputy defense minister said when Muslim Brotherhood Egyptian President Mohammed Morsi visited Iran last month.
Sixty-two percent of those polled agreed that "Iran and its president, Mahmoud Ahmadinejad, are friends of Egypt." 
The results of the poll belie an impression Muslim Brotherhood Egyptian President Mohammed Morsi has been trying to spread. He visited Iran several weeks ago but denied he is considering renewing ties with Iran, after more than three decades of a freeze following the Egyptian-Israeli peace treaty and the Islamic Revolution.
Cairo's new ambassador to Israel told President Shimon Peres last week that Egypt will retain the peace treaty, but Morsi's advisers have spoken more assertively against the peace treaty, echoing Morsi's own anti-Israeli statements during his campaign for president.
The Israel Project poll, widely headlined in Iran's state-controlled media, revealed that 65 percent of Egyptians back renewed diplomatic ties with Iran and that 61 percent support Iran's nuclear development. Three years ago, a similar poll showed that only 41 percent of Egyptians backed Iran's nuclear project.
The only sour note towards Iran was the view of 68 percent of the respondents who expressed an unfavorable view of Shi'ite Muslims.
Israel Project CEO Josh Block told The Foreign Policy "Cable" that a nuclear Iran would set off a regional race for nuclear weapons.
"Very scary to people opposed to proliferation of nuclear weapons, let alone to unstable countries in the world's most turbulent part of the world, is the 87 percent who want Egypt to build nuclear weapons," he said. "Morsi's dangerous embrace of Iran is leading a surprising shift in favor of support for Tehran," which Egyptians formerly saw as a threat.
The respondents also clearly opposed Cairo's retaining diplomatic ties with Israel, with 74 percent wanting a break, nearly three times as many as in a 2009 poll, when Egyptian President Hosni Mubarak was in office.
Seventy-seven percent agreed that "The peace treaty with Israel is no longer useful and should be dissolved."
More than two-thirds of the respondents also said that President Barack Obama favors Israel more than Arabs, and 60 percent thought that the Obama administration has been "a negative thing" for the Arab world.