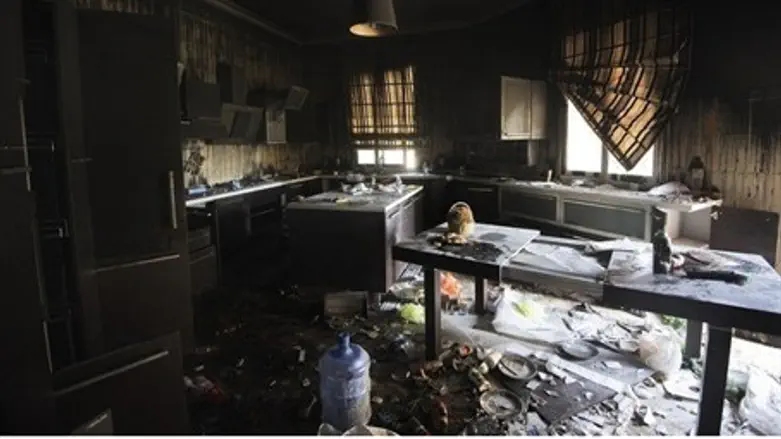 Damage inside the burnt consulate building in
AFP/FIle
Libyan Islamist leader Ahmed Abu Khattala denied on Thursday any role in the attack that killed Ambassador Chris Stevens and three other Americans last month. Abu Khattala spoke in an interview with AFP.
A series of U.S. media reports had implicated Abu Khattala as a commander involved in the deadly September 11 assault on the U.S. consulate in Benghazi.
Abu Khattala, who led the Obeida Ibn Jarrah Brigade during the bloody uprising that toppled and killed dictator Muammar Qaddafi last year, vehemently denied the allegations.
"The report is a lie and all its contents are fabricated, baseless and lacking any credibility," he told AFP.
"Some claim I have left Benghazi and fled the country but, as you can see, talking to me in my house, this is not true.
"There are no new developments on the subject of the U.S. consulate," he said, adding that the reports reflected interests.
"What we can say is that a group of people came out to demonstrate and the guards tasked with protecting the consulate opened fire. I don't know whether this came from the American or the Libyan section (of the guards)," he claimed.
"Then there was gunfire and finally the consulate was burned down," he said.
Abu Khattala told AFP that no investigators or officials had made contact with him.
"No officials of any kind have reached out or spoken to me about this matter," he stressed.
In the immediate aftermath of the September 11 attack, Obama administration officials said it appeared to be linked to protests in the Muslim world against a film shot by American-based activists and deemed insulting to the Islamic faith.
It has since emerged that the prime suspects in the attack are terrorists with links to Al-Qaeda.
State Department officials testified at a congressional hearing last week that requests for additional security in Benghazi were turned down by their superiors.
Secretary of State Hillary Clinton took the blame this week for the fiasco over the Benghazi attack.
"I take responsibility," she said, adding, "I'm in charge of the State Department -- 60,000 plus people all over the world, 275 posts."
Clinton's claim was viewed by some as an attempt to take the heat off Obama, after Republicans accused the President of covering up the details of the attack.