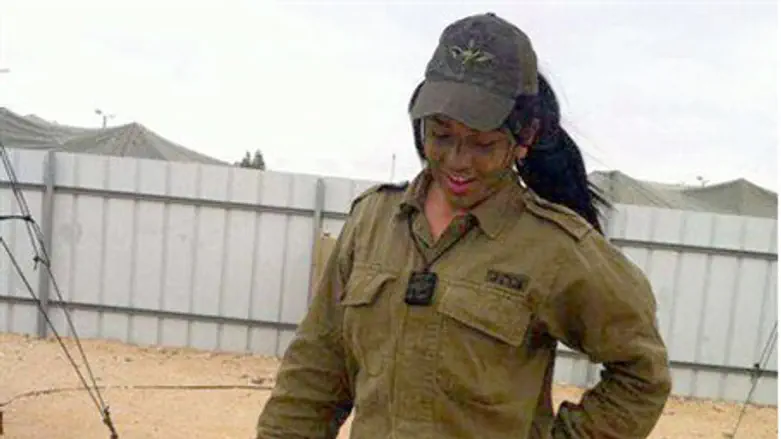 Mona Abdo is the first female Arab combat com
IDF Spokesperon
On Wednesday night, a twenty year old Christian Arab is set to make history, as she becomes the first female Arab commander of an IDF combat unit. 
Mona Abdo, who grew up in Haifa, but now lives in Kiryat Haim, will take her place at the graduation ceremony for the IDF commanders training course, where surrounded by family and fellow Jewish Israeli soldiers, she will become a commander in Caracal, the first of her sector to ever accomplish something of this magnitude. 
Abdo began her journey in December 2010, when she volunteered to join the Israeli army and was assigned to the Ordnance Corps. But, after four months, she decided she wanted more of an active role, and was transferred to the female combat unit Caracal - which has both male and female, and Arab and Jewish soldiers fighting alongside each other. 
Abdo worked very hard throughout her training and was then chosen for the elite commander's course. "I'm very excited and I'm thinking about the fact that soon I'm going to get new troops who will be under my command. I hope to lead by personal example," she said. 
Abdo received mixed reactions from the residents of her village and from the Jewish counterparts serving alongside her for her desire to join the IDF. "There were people who were very proud of me, but there were those [Arabs] on the street who saw me with the IDF uniform and the fighter pin and told me I was a traitor," she told News 2 online. "I'm very at peace with my decision and my parents are very supportive." 
"There were soldiers who were originally in shock, those I met in the course and in the battalion, but they were very impressed with what I did. I was also approached by Arab women who told me they wanted to enlist, but that they were worried about what other Arabs in the village might think."
Throughout the entire process, her parents and family encouraged her every step. Abdo's younger sister even joined the same unit as her and now serves the country alongside her in Caracal. Yet with all that she's accomplished, Abdo wants to accomplish even more, expressing her desire to get as far in the IDF as possible, perhaps rewriting history again as the first female arab officer of a combat unit.