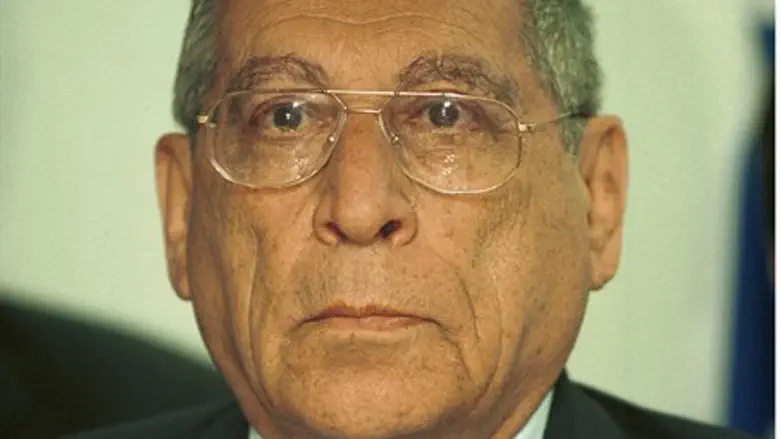 Rehavam Ze'evi
Flash90
A day after it dispersed itself, the Knesset on Tuesday held a special memorial session in memory of Tourism Minister Rehavam Ze'evi, murdered by Arab terrorists during the second intifada. MKs from most of the Knesset's member parties joined together to remember "Gandhi," as he was called, after he was murdered on October 17, 2001, as he left a hotel on Mount Scopus in Jerusalem.
"We miss Gandhi today more than ever," Knesset Speaker MK Reuven Rivlin said during the session. "We miss his honesty, a rare quality in politics today. We miss his clear, ideological voice, his leadership, his larger than life presence. Unlike many dreamers, and a long line of leaders who thought they could change the reality of this region, Gandhi was a different breed. He was the type of leader who acknowledged reality, and did not become confused between what they wanted, wished and hoped for, and between what was possible."
Referring to the vandalism at the grave of Moshe Dayan reported earlier Tuesday, Rivlin said that Ze'evi would have "sharply condemned the desecrators of Moshe Dayan's grave. Despite the fact that he sharply disagreed with Dayan on many issues, he would not have let such a thing pass." The vandalism itself, he said, "represented a new low in our ability to conduct a civil, fair, and respectful but thorough political discourse – as it was in Gandhi's day, and as he himself practiced."
Ze'evi, the outspoken head of the Moledet party, was an advocate of paying Arab residents of Israel to emigrate and take up residence in new countries where they could feel more comfortable, at the expense of the Israeli taxpayer. He was also sharply opposed to the Oslo Accords, and led and participated in many protests against them. In 2001, he was appointed Tourism Minister in the government of Ariel Sharon – the first government position he took in over a decade, after he resigned from Yitzchak Shamir's government, after Shamir agreed to discuss Israeli concessions at the Madrid Conference. Despite his firmly right-wing views, Ze'evi was a longtime comrade of murdered Prime Minister Yitzchak Rabin, with whom he served in the pre-state Palmach fighting brigade.
His nickname, Gandhi, according to legend, was given to him by Palmach members, who said that Ze'evi looked like the Indian leader when he wore long Arab-style robes when he did undercover work in the Palmach.
Ze'evi was murdered at the height of the second intifada, as he left the Hyatt Hotel on Mount Scopus in Jerusalem. Ze'evi's murder was organized by top Arab terrorist Ahmad Sa'adat, one of the few terrorists Israel refused to release in the deal to exchange over 1,000 terrorists for kidnapped IDF soldier Gilad Shalit.
The actual murder was carried out by four Arab terrorists who, along with Sa'adat, fled to PA controlled areas. Israel demanded that the PA surrender the five, and placed a siege around Yasser Arafat's Muqa'ata compound, which remained in place for several months until the U.S. proposed a plan whereby the five would be jailed under the custody of Western soldiers. The five were taken to a prison in Jericho, where they were "jailed" under posh conditions, in a prison guarded by American and British troops – and where they remained until a daring raid by IDF troops on the prison in 2006, when the five were arrested and brought to Israel to face trial.
Even those who disagreed with Ze'evi, said Rivlin, paid attention to him. "His stances were tough, firm, and controversial, but no matter how you felt about him, you could not ignore him."