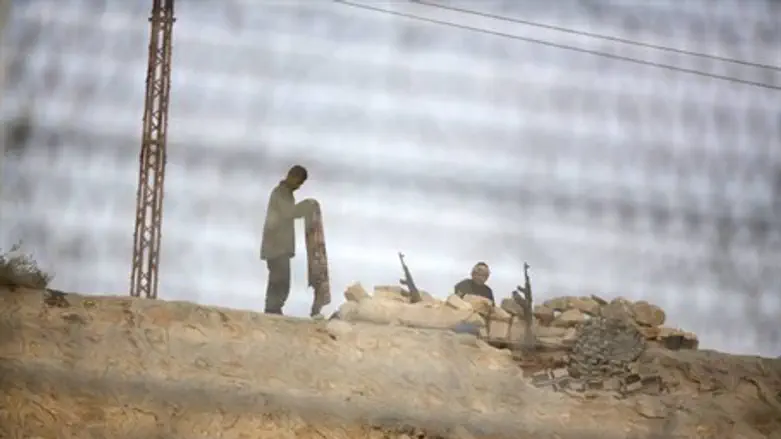 Egyptian soldiers in Sinai
AFP סוכנות
Unidentified gunmen seized a vehicle belonging to the Egyptian army in Arish, North Sinai, a security source told the state-run news agency MENA on Sunday evening.
The source told the news agency that a group of gunmen in an SUV without license plates stopped the army vehicle in the Gisr al-Wadi district of Arish. After removing the passengers, they took the vehicle to an unknown desert area.
Authorities coordinated with tribal figures from Sinai to identify the attackers, according to the source. Negotiations regarding their demands are ongoing.
The source refused to reveal their demands or the possibility of responding to them. There has been no official statement by the Egyptian army on the incident.
Egyptian security forces launched a campaign to crush terrorists in the restive Sinai, after an attack on an army outpost killed 16 soldiers on August 5.
There has been a state of high alert in the Sinai in the wake of the attack. In some cases terrorists have managed to come close to the Israeli border and open fire on IDF patrols. One Israeli soldier was killed and a second was critically wounded in an attempted cross-border attack by terrorists along the Egyptian-Israeli border on September 21. The IDF eliminated the three terrorists who carried out the attack.
Israel has urged Egypt to tackle the growing lawlessness in Sinai, and Cairo has responded by boosting its military presence in the area where the attack took place.