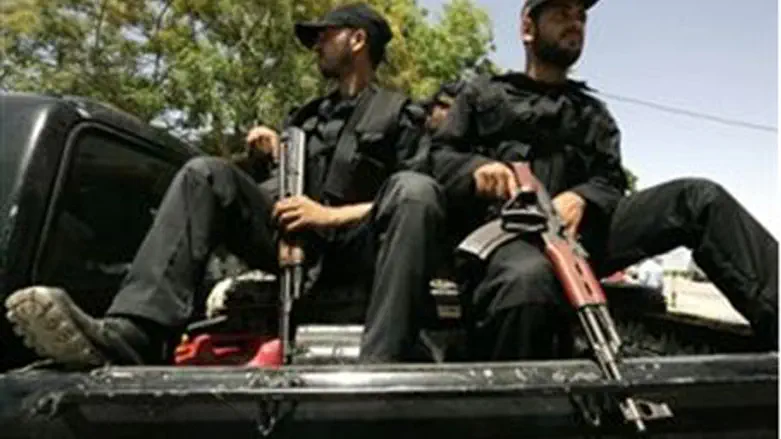 Hamas in Gaza
Israel news photo: Flash 90
A Hamas minister called on Thursday for the kidnapping of more Israeli soldiers so they can be used as bargaining chips to bring about the release Arab terrorists being held in Israeli prisons.
Taleb Abu Al-Sabah, Hamas' Prisoners Minister, made the comments as his movement marked one year since the release of Gilad Shalit, who was held captive by Hamas terrorists for more than five years and was released in October of 2011 in exchange for 1,027 terrorist prisoners.
Speaking at a press conference near the home of one of the terrorists freed in the Shalit deal, Al-Sabah said that the release of prisoners is a religious imperative for Palestinian Authority Arabs, who have learned that Israel "does not understand anything other than the language of force and struggle."
He called on the PLO and the Palestinian Authority, led by Mahmoud Abbas, to end all forms of security cooperation with Israel as a way to express solidarity with PA Arab prisoners.
"The first anniversary of the completion of the Shalit deal emphasizes that the release of the prisoners will be achieved only through struggle," said Al-Sabah.
Tawfiq Abu Naim, the head of Hamas' released prisoners committee, said during the same the event that the prisoners are placing their confidence in the PA-based terror organizations and in their kidnapping of more soldiers. He added that the prisoners do not believe that negotiations with Israel will bring about results.
Shalit's kidnapping and subsequent release has prompted the IDF to update the captivity training it provides to soldiers in its elite units. The captivity workshops provided to soldiers in combat units and to air force pilots have been updated based on information Shalit provided in a debriefing he underwent after his release.
Shalit, meanwhile, gave his first interview to Israeli television on Thursday. In the interview Shalit recalled how he spent the long days and hours of his captivity.