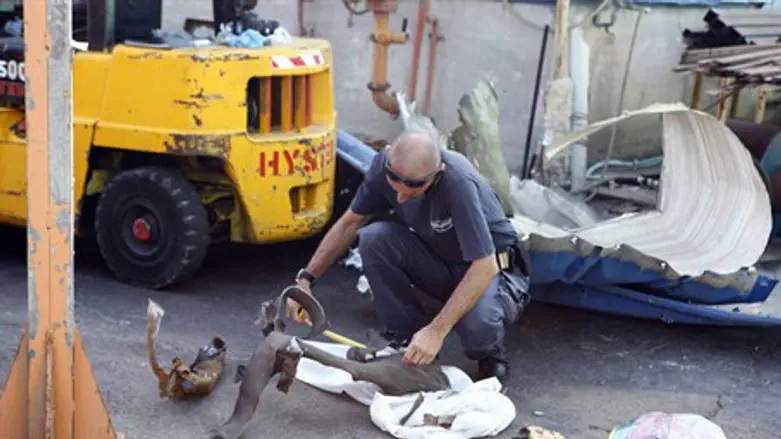 Rocket damage in Sderot (archive)
Israel news photo: Flash 90
Holiday greetings were fired from Gaza as terrorists launched a barrage of rockets and mortar shells at southern Israel Monday.
Jews throughout the country marked Simchat Torah, a joyous celebration in which the annual cycle of reading the holiest book in Judaism is completed and commenced once more.
But in the south of the country, Israelis were instead repeatedly forced to race into bomb shelters. Terrorist groups shelled communities in the Eshkol Regional Council district, and launched dozens of rockets at the region.
At least two buildings were damaged, and a significant number of goats were killed when a missile struck a children's animal corner in one kibbutz.  A mortar shell also exploded close to a synagogue in a barrage that was fired at about 5:50 a.m.
The Izz a-Din al-Qassam military wing of Gaza's ruling Hamas terrorist organization claimed responsibility for the attacks, together with the Islamic Jihad-linked Ansar al-Quds terrorist group.
"This blessed operation came in response to continuous and repeated enemy crimes against our defenseless people," claimed the terrorists in a joint statement issued on a jihadist website.
Residents of the Eshkol region have been ordered to remain close to their bomb shelters.
The attacks came in response to an Israeli air strike Sunday in Gaza. Palestinian Authority Arab sources in the area claimed that 10 people were injured in the attack.
The IDF Spokesperson's Unit said the surgical air strike targeted two Global Jihad terrorists – Tala'at Halil Muhammad Jarbi, 23 and Abdullah Mohammed Hassan Maqawi, 24, as the two were riding a motorcycle. The IDF said the two were in the final stages of planning to carry out a terrorist operation against Israel during Simchat Torah. Maqawi died Monday of the wounds he sustained in the strike, local sources said. 
Jarbi, a resident of Rafiah, has been involved in terror activity for years, said the IDF, and is a member of the Global Jihad terror movement. He had been involved in preparation of a terror attack in Sinai, according to intelligence reports.
Maqawi is a member of the Mujahadeen Shura Council (MSC) of Greater Jerusalem, a Global Jihad group based in Gaza.