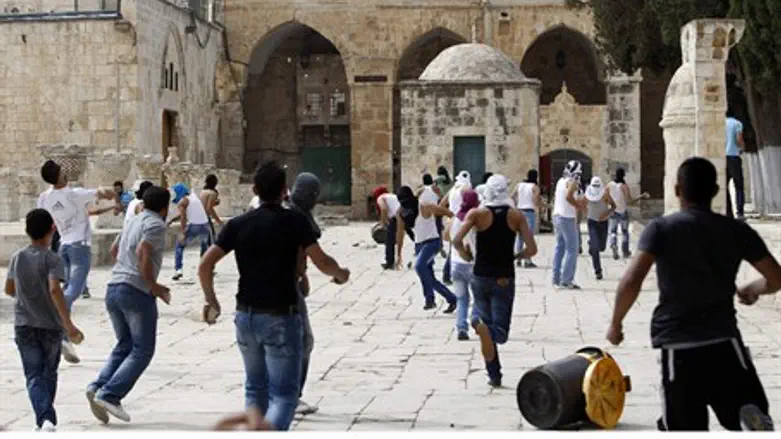 Rioters hurl rocks near Temple Mount
Reuters
A movement of Temple Mount organizations has called on authorities to completely separate Jews and Arabs on Jerusalem's holiest site, in the same way the two groups are separated at the Cave of the Patriarchs in the holy city of Hevron.
The call came less than an hour after a rabbi and two Jews were arrested on suspicion of "praying" on the site, just hours before the start of the Jewish holiday of Simchat Torah. One of the two Jews had three of his children with him at the time.
In addition, an Arab was arrested in connection with violent riots on the site that had taken place two days earlier in which worshipers hurled rocks at police as they left the mosque after prayers.
Following the arrests, the Temple Mount Task Force issued a statement condemning the  police actions against Jews at the site. The renewal of such arrests, said the organization, is "contrary to justice, civil rights, religious freedom and calls by the [Supreme] Court and Knesset members. The prime minister must stop the denial of a written promise to allow Jews to pray on the Temple Mount," the statement continued.
"The police must completely separate Jews and Muslims on the Temple Mount, to enable proper living of Jews life on the Temple Mount."
The call echoes one made earlier in the week following similar incidents.
On Thursday, the Temple Mount was closed to Jews following a week in which a plethora of incidents kept Israel police busy on the site. The site was originally closed that day due to a concrete terror alert warning of an intent to attack Jews in the area.  However, Muslims hurled rocks at a police force that began to comb the Mount's huge plaza in search of suspects. Distracted, police then began to search for those who threw rocks at them -- and it is not clear whether the possible terrorists managed to elude their pursuers or not.
Three Jews were also arrested on the site, with police claiming they had tried to force their way in, and attacked the officers. 
On Tuesday, two Jewish men were detained on suspicion of "praying" during a visit to the site, and three Arabs were arrested as well -- for carrying knives. One of the Jews was arrested for closing his eyes while on the Mount. A police officer claimed that the act constituted prayer.
The Temple Mount Task Force within a day issued an urgent call to implement the recent recommendation by Judge Malka Aviv to set aside an area on the Temple Mount where Jews may pray -- securely, and alone.