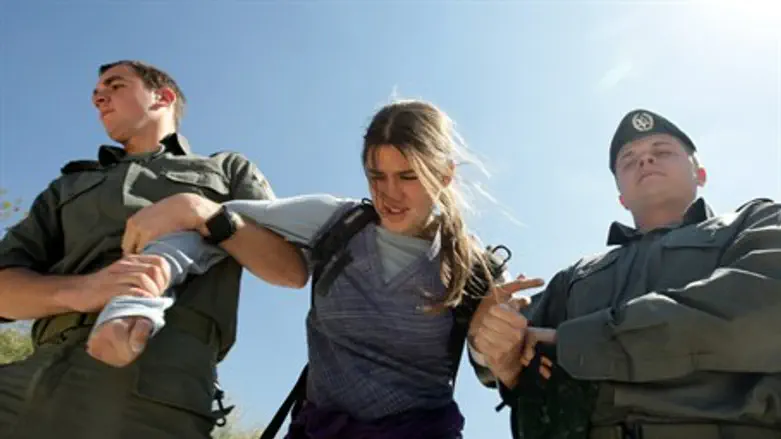 Eviction from Shvut Ami (archive)
Flash 90
Security forces demolished the Shvut Ami outpost in Samaria on Friday evening, during the Jewish Sabbath, Tatzpit reports. Residents of the area were forcibly removed, and two were detained until the demolition was complete.

Officers confiscated residents' personal effects, including clothing, mattresses, bedding, wallets, telephones, and ID cards.

When the demolition was complete residents were told that in order to get their belongings back, they would need to report to the Efraim District command center on Saturday night.

However, when four residents showed up at the scheduled place and time, they were told that their belongings were being held by police. They were also told that they cannot retrieve their items until Tuesday, as the police station will be closed until then due to the Succot holiday on Sunday night and Monday.

Residents of Shvut Ami told Tatzpit that despite official IDF orders prohibiting unnecessary demolitions on the Sabbath, this is not the first time their outpost has been targeted during the day of rest. They reported that police frequently confiscate their belongings as a form of punishment.

Police have yet to respond to the report.