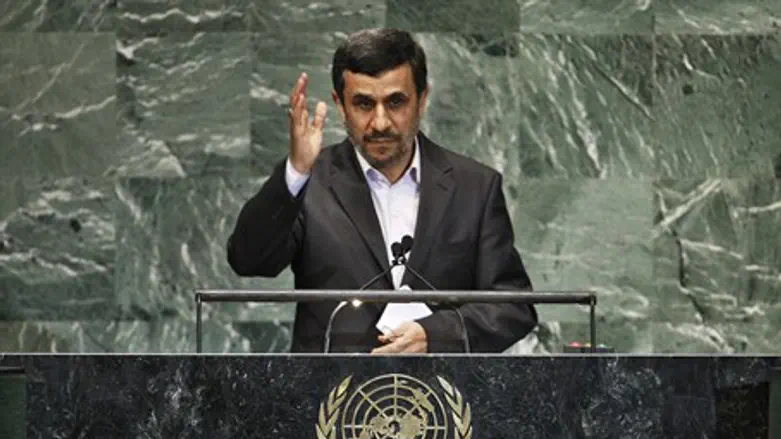 Iran's President Mahmoud Ahmadinejad addresse
Reuters
A bipartisan group of members of the U.S. House of Representatives introduced a resolution that calls on the Obama administration to pressure the United Nations to prevent Iranian President Mahmoud Ahmadinejad from addressing the U.N. General Assembly on Yom Kippur, The Hill reported.

"[I]t would not only be offensive, but insensitive for the United Nations to allow Mahmoud Ahmadinejad to address the General Assembly at all, let alone on the holiest of all Jewish holidays, Yom Kippur, after making such vicious statements towards world Jewry and the State of Israel" reads the resolution, which cites numerous examples of the Iranian leader's anti-Semitic rhetoric.
The resolution was introduced by Rep. Mike Fitzpatrick (R-Pa.) and is co-sponsored by a bipartisan group of 14 House members.
It states that Ahmadinejad has "specifically threatened both the United States and Israel publically and politically on a continual basis" and "has often called for the destructions of Israel, demanding for it to be 'wiped off the map.'"
It continues to state that the Iranian president "has consistently denied the evidence of the Holocaust, an event that took the lives of more than 6,000,000 Jewish people."
"Ahmadinejad and his regime pose a clear threat to national security interested in the United States, as demonstrated by Tehran's nuclear program and their enduring assistance to terrorist groups in the Middle East and the Western Hemisphere including Hamas, Hezbollah, and other extremists that seek to undermine regional stability and threaten the good order of the United Nations," reads the resolution.
It also says that under the U.N. charter, members must "refrain in their international relations from the threat or use of force against the territorial integrity or political independence of any state, but Ahmadinejad has specifically failed to do so."
"[A]n outspoken, anti-Semitic Iranian leader should not be given the opportunity to criticize a Jewish person's right to freely practice religion or denounce Israel's right to exist on the largest international stage," it concludes.
According to The Hill, it seems unlikely that the resolution will pass, given that both the House and Senate are not expected to take up any votes between now and the November election.
Other co-sponsors of the resolution are Reps. Robert Aderholt (R-Ala.), Ted Deutch (D-Fla.), Alcee Hastings (D-Fla.), Leonard Lance (R-N.J.), Jeff Landry (R-La.), James Lankford (R-Okla.), Carolyn McCarthy (D-N.Y.), Pat Meehan (R-Pa.), Gary Peters (D-Mich.), Bill Posey (R-Fla.), Linda Sanchez (D-Calif.), Brad Sherman (D-Calif.), Joe Walsh (R-Ill.) and Lynn Westmoreland (R-Ga.).