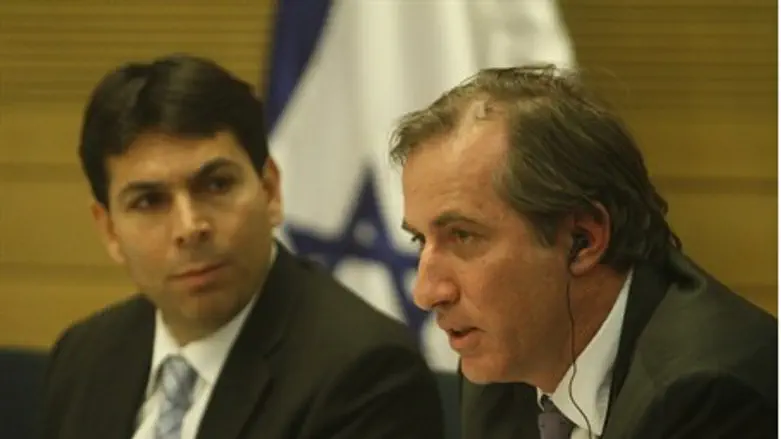 French Ambassador Bigot (right), MK Danon
Israel news photo: Flash 90
MK Danny Danon, the chairman of the Knesset's Aliyah, Absorption and Diaspora Committee, says the committee will hold an urgent session to discuss the firebomb attack on a Kosher supermarket in France. He has sent a letter to the French President asking him to beef up security at Jewish learning institutions.
"The Jews must be protected, so that we do not see a Toulouse 2," he wrote, in a reference to a murderous attack on a Jewish school in March. 
MK Danon is convinced that the attack is linked to the Muslim violence over an anti-Muslim video called "The Innocence of Muslims" and some anti-Muslim cartoons published in France this week. The committee will discuss the influence of the latest Muslim "rage" on Jews in the Diaspora.
"The extremist elements who murdered the U.S. ambassador in Libya and are now trying to attack Jews worldwide should find themselves behind bars as soon as possible," said Danon.
The committee session is to determine if there is a tangible threat to Diaspora Jews, and if so, what steps the government should take in order to forestall a global anti-Jewish wave. "It is the duty of the Jewish State to defend all Jews, no matter where they are," Danon explained.