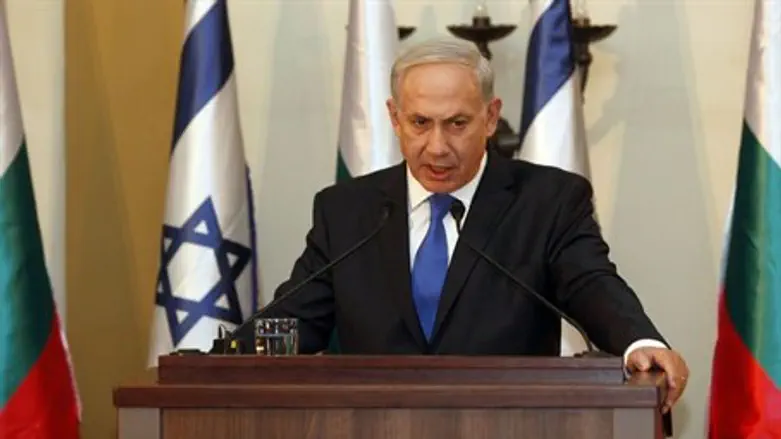 Prime Minister Binyamin Netanyahu
AFP/Pool/File
Prime Minister Binyamin Netanyahu said on Saturday that Iran's leaders are guided by "unbelievable fanaticism."
Netanyahu's comments, quoted by AFP, were made as part of an interview to be aired on NBC television's "Meet the Press" on Sunday. Parts of the interview were made available on Saturday.
"I think Iran is very different. They put their zealotry above their survival. They have suicide bombers all over the place. I wouldn't rely on their rationality," Netanyahu said, suggesting Iran cannot be contained in the same way as the Soviet Union during the Cold War.
He added, "Since the advent of nuclear weapons, you have countries that had access to nuclear weapons who always made a careful calculation of cost and benefit. But Iran is guided by a leadership with an unbelievable fanaticism."
Netanyahu made a link between Iran's hardline leadership and the wave of violent protests against U.S. and other Western diplomatic posts around the world triggered by an amateur Internet film made in the United States that denigrates Islam and its Prophet Mohammed.
"It's the same fanaticism that you see storming your embassies today. You want these fanatics to have nuclear weapons?" he asked.
Netanyahu said that critics who argue that taking action against Iran's nuclear program was "a lot worse" than a nuclear-armed Tehran, or that an Iran with nuclear weapons would stabilize the Middle East, "have set a new standard for human stupidity."
The comments come amid reports that U.S. President Barack Obama this week rejected an appeal by Netanyahu to spell out a specific "red line" that Iran could not cross in its nuclear program. Obama rejected the idea during a phone conversation with Netanyahu on Tuesday.
The telephone conversation came after a tense day between the sides. It began with comments by Netanyahu that the Obama administration had no "moral right" to restrain Israel from taking military action on its own if it refused to put limits on Iran. It continued with reports that the White House had rebuffed a request by Netanyahu's office for a meeting with Obama during the meeting of the United Nations General Assembly in New York this month. The White House denied those reports, saying the two were simple not in New York at the same time. 
U.S. Defense Secretary Leon Panetta joined Obama on the weekend and dismissed Netanyahu's "red line" demand, saying that red lines "are kind of political arguments that are used to try to put people in a corner."