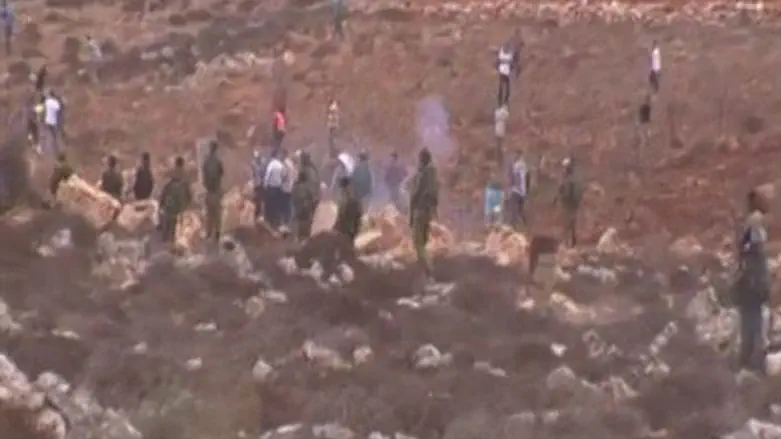 Confrontations near Esh Kodesh
Matti Barnea
Three Jews were lightly injured on Saturday night when they were attacked by Palestinian Authority Arabs who tried to reach the village of Esh Kodesh in the Binyamin area. IDF forces dispersed the Arabs.
The Tatzpit news agency reported that that some 100 Arabs armed with sticks, axes and rocks up tried to make their way from the village of Kutzra towards Esh Kodesh. The Arabs were shouting "Allahu Akbar" and "Yitbach al Yahud" (Slaughter the Jews).
A local security team defended the village from the rioters, the report said.
A similar incident also took place last Saturday, when three men from Esh Kodesh were walking in one of the town's vineyards in the afternoon, during the Jewish Sabbath.
The men were attacked by a large Arab mob armed with clubs and sticks, residents said. A security team from Esh Kodesh was called to the scene, as were nearby IDF units. The responders encountered hundreds of PA men armed with rocks and other makeshift weapons, and were unable to stop the assault.
"Children in the village are crying," community spokesman Aharon Katzuf told Tatzpit. "They can't sleep because of the screams of 'Yitbach al Yahud' and 'Allahu Akbar.'"