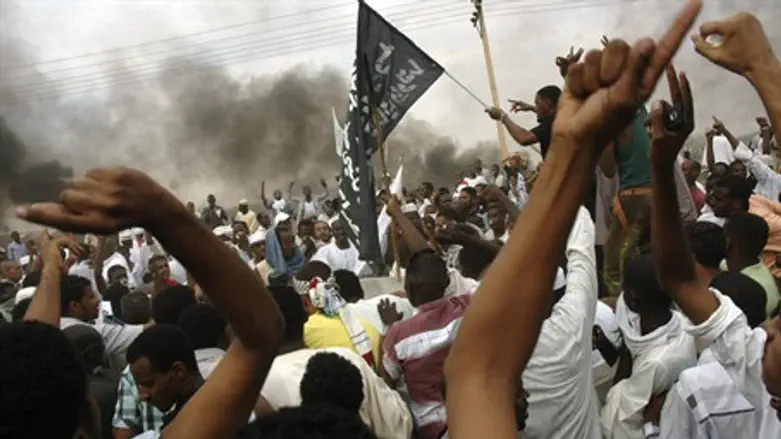 Sudanese attack US embassy in Khartoum
Reuters
Sudan won't allow the United States to send a platoon of Marines to protect its embassy from rioting Muslims.
According to a report released by the SUNA state news agency, the country's government formally rejected the request Saturday. The news agency quoted Sudan's Foreign Minister, Ali Ahmed Karti, as saying, "Sudan is able to protect the diplomatic missions in Khartoum and the state is committed to protecting its guests in the diplomatic corps." 
State Department spokeswoman Victoria Nuland confirmed Saturday in a terse statement that the Sudanese government had "recommitted itself both publicly and privately to continue to protect our Mission, as it is obligated to do under the Vienna Convention. We are continuing to monitor the situation closely to ensure we have what we need to protect our people and facility."
The U.S. decided Friday to send in a group of 50 Marines after rioting Muslim breached security at the embassy in Khartoum and entered the compound, which is located outside the city. Speaking on condition of anonymity, a Washington official said the Marines were already on their way to Khartoum when word was received the request was rejected. They were called back, pending further discussions.
A mob of some 5,000 "protesters" swarmed towards the American compound – having first stormed the German embassy and attacked the British embassy – to express their rage over an obscure amateur video that mocked the life of the Prophet Mohammed, the founder of Islam.
The film, produced privately in the United States, was released at least six months ago and made no headlines until last week, when it was translated into Arabic and a trailer posted on the Internet and broadcast on a television channel in Egypt.
The video clip ignited an outpouring of rage and violence from Muslim extremists around the world, and was used as an excuse for the savage killing in Libya of a U.S. Ambassador and three American diplomats – the first such murders in 33 years -- as well as the ongoing attacks on U.S. diplomatic missions worldwide.