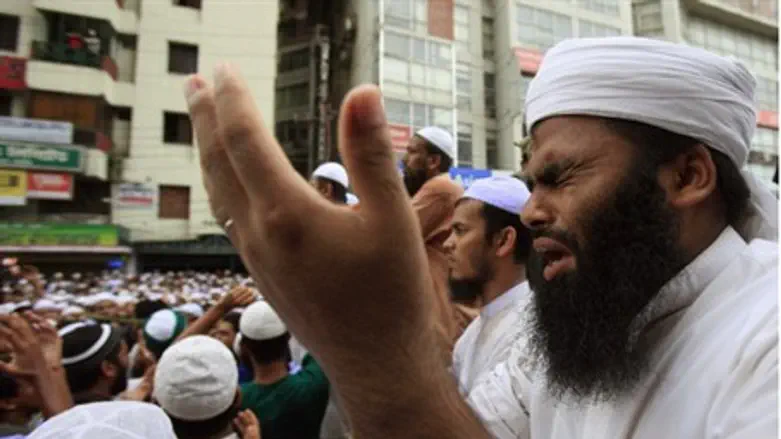 Protest in Bangaladesh
Reuters
A man who claims to be the producer of an anti-Islam movie that has sparked violent protests across the Arab world and in several Muslim-majority countries says he has no regrets about making the film.
"No, I do not regret it. I am saddened by the killing of the ambassador but I do not regret making it," Nakoula Basseley Nakoula, a 55-year-old Egyptian Copt living in California, told American Arabic-language Radio Sawa.
He was referring to the killing of US ambassador to Libya Chris Stevens and three other Americans in an attack on the US consulate in the Libyan city of Benghazi. While the murder was at first reported to have been carried by a mob angered by the film, "Innocence of Muslims," there is ample evidence that it was a well planned terror attack.
"I am the one who leaked the 14 minutes and put it on the Internet and I am thinking about releasing the full film. Nobody manipulated my film," Nakoula said.
Asked if he felt guilty that the violence is being directed against U.S. citizens, Nakoula said: "Yes, I feel guilty. America has nothing to do with this subject and is suffering the consequences of a film that has nothing to do with it."
After Egypt, Yemen and Libya, protests have spread across the Middle East and further afield, including to Bangladesh, Iran, Iraq, Israel and Gaza, Kuwait, Sudan and Tunisia.
"I had published a book in 1994 (on Islam) and it impressed certain parties who asked me if I could turn this book into a movie and this is what I did," Nakoula said.
"I have a message for the whole world and not for Muslims. I hope that you watch the movie in full before you judge it."
He described himself as "an Arab thinker interested in Islamic affairs."
The low-budget movie, in which actors have strong American accents, portrays Muslims as immoral and gratuitously violent.  It pokes fun at Islam's prophet Mohammed and touches on themes of pedophilia and homosexuality, while showing him sleeping with women, talking about killing children and referring to a donkey as "the first Muslim animal."
Mystery remains, however, over exactly who is behind the film, amid conflicting claims of Jewish or Coptic Christian involvement.
The film's director was initially identified as Sam Bacile, who claimed to be an American-Israeli who had Jewish financial backing.
He reportedly went into hiding after the protests erupted in Egypt and Libya.
But doubts about his identity grew, culminating in US media reports pointing to Nakoula, a California Coptic Christian convicted of financial crimes, living outside Los Angeles.
Steve Klein, a consultant on the movie, denied that Israeli authorities were involved in the film, and said Bacile -- which he acknowledged was a pseudonym -- was mortified to hear of the US ambassador's death.
Online reports cited in the New York Times blog suggested Morris Sadek, an Egyptian-born Coptic Christian, and his ally Terry Jones, the Florida pastor notorious for previous Koran-burning stunts, had cooperated in promoting the movie.
But later a report cited by US media identified Nakoula as saying he managed the company that produced the film, and that he was a Coptic Christian.
Klein said he did not know the filmmaker's nationality. US Secretary of State Hillary Clinton has condemned the film as "disgusting and reprehensible" and said "the United States government had absolutely nothing to do with this video."