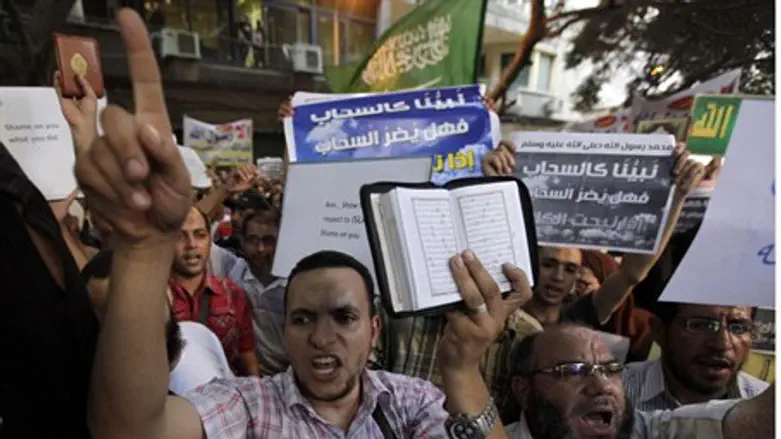 People shout and hold slogans in front of the
Reuters
An Israeli-American filmmaker went into hiding Tuesday after his movie, which provides a negative view of Islam and its founder, the Prophet Mohammed, sparked violent protests yesterday against U.S. diplomatic missions in Egypt and Libya, which resulted in the death of four Americans. 
Sam Bacile, a 56-year-old California real-estate developer, produced and directed the two-hour controversial film, titled "Innocence of Muslims," The Wall Street Journal reported. Bacile spoke from an undisclosed location on Wednesday, remaining defiant and calling Islam a "cancer." The film depicts the Prophet Mohammed sleeping with women, talking about killing children and referring to a donkey as "the first Muslim animal."
The film is being promoted by controversial Florida pastor Terry Jones, who has drawn protests in the past for burning the Koran and vehemently opposing the construction of a mosque near Ground Zero in New York. "It is an American production, not designed to attack Muslims but to show the destructive ideology of Islam," he said in a statement cited by the Journal. "The movie further reveals in a satirical fashion the life of Mohammed."
The production was also assisted by two expatriate members of Egypt's Christian Coptic minority who live in the United States.
An English-language trailer, which was posted on YouTube in July, attracted little attention until an Arabic version was posted on the same YouTube channel last week. The Arabic version, which was copied and viewed tens of thousands of times, quickly ignited fury in the Arab world.
Before the protesters attacked the compound, the U.S. Embassy in Cairo issued a statement saying, "The Embassy of the United States in Cairo condemns the continuing efforts by misguided individuals to hurt the religious feelings of Muslims – as we condemn efforts to offend believers of all religions."
Later, the embassy's official Twitter feed condemned the controversial film as well as the attack on the compound.