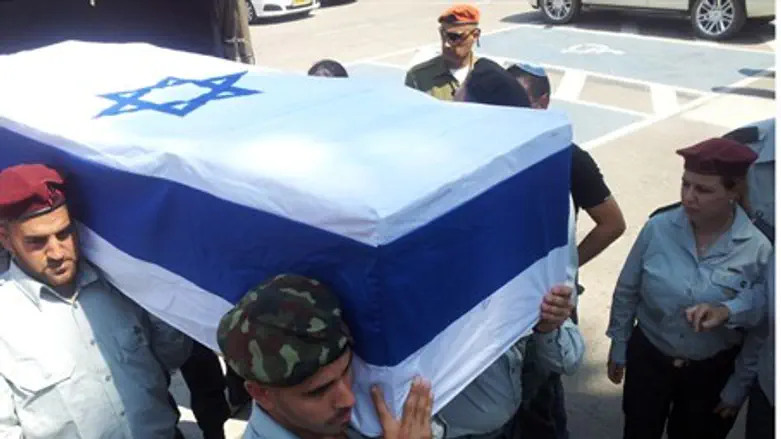 Funeral of Lior Farhi
Yoni Kempinski
Arutz Sheva spoke on Monday with neighbors and friends who were at the funeral of Lior Farhi, the security officer from Shaarei Tikva who was intentionally run over by an Arab driver Sunday morning.
Farhi left behind a pregnant wife, Naomi, and three children.
Ayelet Ben Menachem, a resident of Shaarei Tikva, described Farhi as "a very special person. He was very modest, he didn't want anyone to really know what he was doing. He wanted to do everything for the people in the community. He wanted to make them safe and give them a feeling that they were coming to a safe place."
Danny Dayan, chairman of the Yesha Council, told Arutz Sheva that "there is no doubt" that Farhi was a victim of terrorism.
"Terrorism has many shapes and many weapons," he said. "Sometime it's a stone, sometimes it's a knife and sometimes it's a rifle. This time it was a car, but it's the same Arab terror that is trying to evict us from our land."
"Lior Farhi died defending the whole country," he said. "He tried to prevent a hostile population from getting into the metropolitan centers of Israel."
Dayan's words were echoed by Adam Halley, security coordinator of the Israel Heartland organization.
"He put his life in danger while protecting his community, and he was struck down by an Arab terrorist who just happened to use his vehicle instead of a bomb or a gun," said Halley.
"Every so often we realize that the situation is worsening, and right now I think we're on the crest of a wave of a very large number of attacks, whether they be physical infiltrations into our communities, rock throwing, or shootings," he added. "But things are definitely much worse than they've been in a long time."