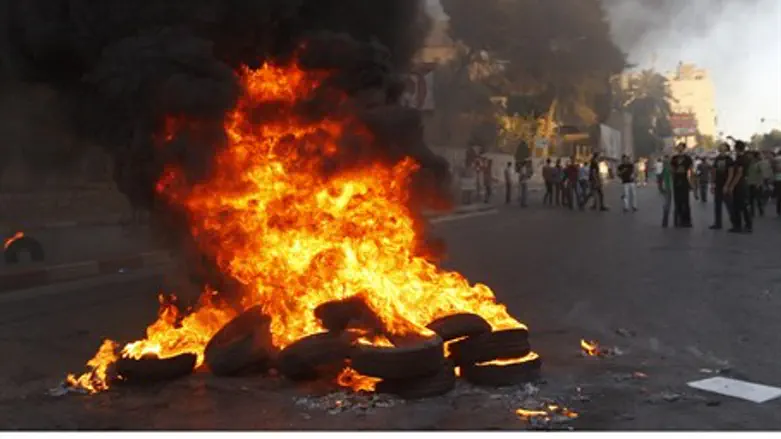 PA protesters burn tires in Shechem
Reuters
Hundreds of protesters gathered on Wednesday in the main square in Shechem (Nablus), calling for the ouster of Palestinian Authority Prime Minister Salam Fayyad.
The protesters held up signs which read, "Go away Fayyad" and "Abbas and Fayyad, your government does not represent us." The protesters were also joined by Hamas parliamentarians.
PA Arabs have been protesting over rising food and public transportation prices, and Wednesday's protest came one day after a demonstration in Hevron, during which protesters burned a puppet made to look like Fayyad. Demonstrations also took place in Bethlehem and Ramallah.
Fayyad said with respect to the public protest that he understood the demonstrators' frustrations and is aware of the economic difficulties facing the Palestinian Authority. He acknowledged the high rate of unemployment and the fact that the government financial safety net is not enough to help needy families.
Fayyad pledged to work vigorously to increase social assistance to the needy, but said that the economic problems of the Palestinian Authority are mainly due to external factors, such as the rise in food prices and the Israeli "occupation" which prevents economic growth. He called on donor countries to fulfill their obligations to the PA and transfer financial assistance. He also said that financial aid is needed in Jerusalem, to support action against its "Judaization."
The PA government currently faces its worst financial crisis since its 1994 establishment. The crisis has rendered the PA unable to pay employees their salaries or pay off debts it owes to private businesses.
Fayyad warned several months ago that the Palestinian Authority may soon fail financially and cease to exist.
A PA economist predicted that the PA is on the verge of collapse, warning that the later it happens, the harder it will be.
Palestinian Authority Chairman Mahmoud Abbas said at a meeting of foreign ministers of the Arab League in Cairo on Wednesday that the public is right when it demands lower prices and fair wages.
"The Arab Spring began, and we support what the people say and want," said Abbas.
Earlier this week, a teenager died after setting himself ablaze in Gaza to protest economic hardship due to unemployment in the Hamas terrorist-ruled region.