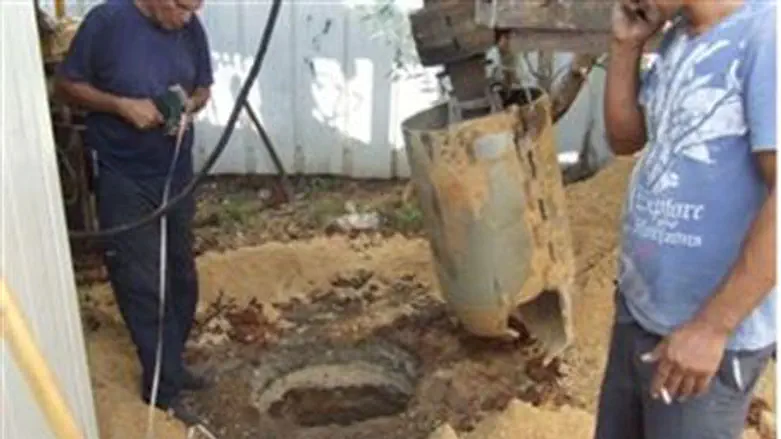 Arab workers (illustrative only)
Israel news photo: Flash 90
The Palestinian Authority "poison terrorist" from Shechem, in Samaria, who tried to kill a family with poison because he hates Jews, was indicted in court Wednesday.
Police last week revealed that Otman Nassarah of Beit Furik spread poison in food and liquids in an apartment of the Lerner family, where he was carrying out renovations.
The indictment in Ra'anana District Court also charged Nassarah and an accomplice for burglary. A second suspect, Husam al-Rahim, carries Israeli citizenship and lives in the "Triangle" region in the area of Ra'anana-Netanya. He was not involved in the plot to poison the Lerners.
Nassarah spread Methomyl, a highly toxic insecticide, in plastic food containers that were in the refrigerator and also in mineral water, a bottle of juice and an electric kettle.
He and al-Rahim stole a television, a pair of wedding rings, other valuables and cash.
Later in the day, Eyal Lerner arrived home and summoned police after discovering the theft.
Shortly later, Lerner, his wife Yifat, their two-year-old son, Yifat's mother and a volunteer policeman began to feel ill after drinking the poisoned liquids. They felt faint, vomited and suffered difficulty in breathing, the indictment stated.
They were evacuated to a nearby hospital, where Eyal was in the most serious condition, remaining in the hospital for an extended period of time before recovering.
Prosecutor Oded Keller asked the court to issue an order that Nassarah remain in jail until his trial.
He also filed an indictment in Kfar Saba Magistrates' Court against al-Rahim for illegally entering the Lerner home, burglary and for breaking into a vehicle.