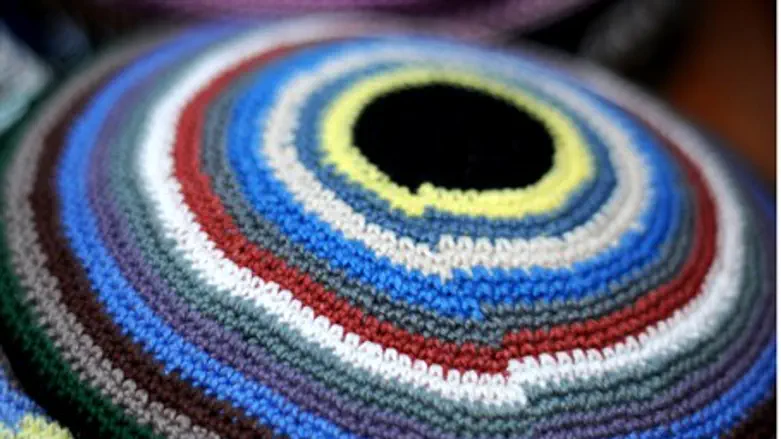 kippah
Israel news photo: Flah 90
A Jewish rabbinical college in Germany has warned its students against wearing kippot, or yarmulkes, after a rabbi was attacked by four Arab youths in Berlin last week.
Rabbi Daniel Alter, 53, was attacked in front of his 6 year-old daughter last Tuesday after picking her up from a piano lesson.
The rabbi was identified by assailants as being Jewish due to his traditional head covering, police said. The perpetrators also directed death threats at his daughter, according to authorities.
"I am not sure whether we will be able to walk the streets of Berlin without fear again," Alter told the Bild daily newspaper following the attack.
As a result, the Abraham Geiger College in Potsdam, which currently trains 28 rabbis, said it had increased security on school grounds.
"If you are no longer seen as a Jewish person, you are safer," the rector of college, Walter Homolka, told the Berliner Morgenpost daily.
"We have also given guidelines to our students on how to behave so that they do not become victims of such attacks," he said. "We have advised them not to wear their skullcaps on the street, but to choose something inconspicuous to cover their head with."
"It would be fatal if we were to see a proxy Middle East war on German streets," he added.
The American Jewish Committee (AJC) has called on Germany's parliament to take concrete action in order to combat anti-Semitism.
"German lawmakers should not delay any longer adopting a comprehensive plan to combat anti-Semitism," said Deidre Berger, the director of the AJC in Berlin.
The attack came amid growing concerns that religious freedom is being restricted in Germany due to a recent Cologne court decision that ruled that circumcision of young boys for religious purposes is illegal, because it inflicts grievous bodily harm.
In July, the Simon Wiesenthal Center issued sharp criticism of the ban saying, "Without strong, unequivocal leadership from the top, these initiatives will further embolden anti-Semitism in the mainstream of European society."