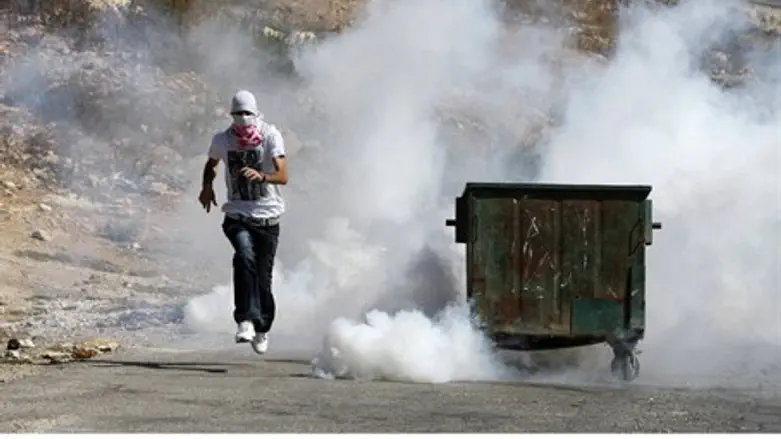 Nabi Saleh protest
Reuters
A Palestinian Authority Arab man was in stable condition on Friday after being shot by Israeli soldiers during a protest in the PA town of Nabi Saleh, north of Jerusalem.
A hospital in Ramallah told AFP that Malek Tammimi, 22, was in "good condition" after surgery to his stomach.
According to the report, Tammimi was hit by a live bullet that also injured his hand during the weekly demonstration in Nabi Saleh.
Nabi Saleh is a regular hotspot where Arabs, radical leftists and anarchists engage the IDF and Border Police in clashes every Friday, for the purpose of disseminating propaganda footage to the world.
Much violence regularly occurs during these protests and is initiated by the demonstrators, who injure soldiers who attempt to use non-violent means such as water and tear gas to disperse them.
This Friday, as well, the soldiers used tear gas and rubber bullets to disperse the protesters. However, the demonstrators chose to escalate the situation and hurled rocks at the soldiers, leaving the soldiers no choice but to use to live ammunition.
The IDF Spokesperson's Office said on Friday that the protesters used violence against the soldiers.
"During an illegal riot, Palestinians threw rocks at IDF forces," said an IDF statement quoted by Channel 10 News. "The soldiers responded with crowd dispersal means."
"An initial investigation revealed that during the demonstration, several Palestinians surrounded IDF forces and began to attack them," continued the statement. "The soldiers were in distress and fired warning shots of live ammunition into the air to distance the attackers."
A report on Channel 2 News said that Friday's weekly demonstration in Nabi Saleh was dedicated to the memory of Rachel Corrie, who died after being run over by an IDF bulldozer in 2003.
This week, a Haifa court ruled that Corrie caused her own death by intentionally remaining in front of the bulldozer.
Judge Oded Gershon supported the IDF claim that the driver of the bulldozer could not see Corrie, who was protesting the 2003 demolitions of structure in Rafiah, Gaza.
The court noted that the case of Corrie is sad but that the young woman, who was 23 years old, was fully aware that she was in danger and that she could have prevented her own death by moving out of the path of the bulldozer.
Judge Gershon found the IDF free of blame and said it did not act recklessly.
Corrie was protesting with the International Solidarity Movement (ISM), whose members have often worked with Hamas and Islamic Jihad terrorists to help them hide from Israeli security personnel.
(Arutz Sheva's North American Desk is keeping you updated until the start of Shabbat in New York. The time posted automatically on all Arutz Sheva articles, however, is Israeli time.)