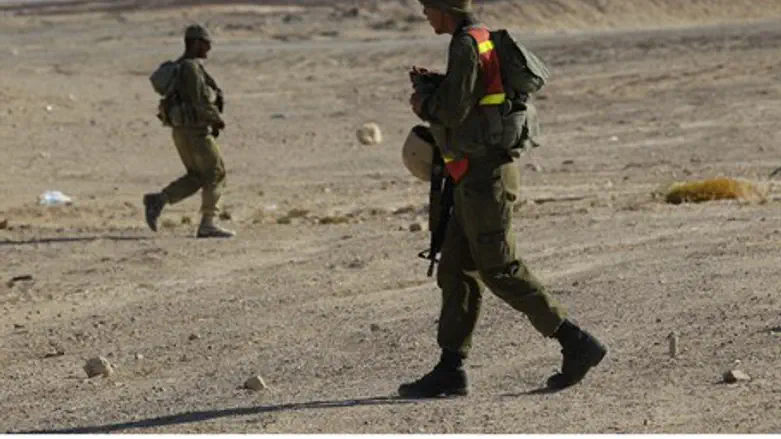 IDF patrols near Sinai border
Israel news photo: Flash 90
A senior Egyptian security official said on Thursday that the balance of military power in the Middle East will change significantly in the near future, following a visit by President Mohammed Morsi in China this week.
The official, who spoke to the Arab website Al-Moheet, said that during his visit to China, Morsi signed a series of security agreements which will produce a new military reality in the Middle East. The comments were translated by Arab affairs expert Dalit Halevi.
"Wait and see the Eagles of Egypt in their new clothing," the official warned Egypt's neighboring countries. "They will be protected by missiles which will hit our enemies, even if they are a thousand miles away."
The Egyptian Air Force, said the official, is expected to dramatically upgrade its capabilities, equipment, aircraft and personnel training, in cooperation with China. He said the upgrade will surprise all parties in the Middle East and North Africa. The Egyptian air defense forces will be able defend the Egyptians against any aggression, he said.
Egypt launched a crackdown on Sinai terrorism in response to a recent attack on Egyptian officers. Egyptian police last week said they had identified 120 individuals in North Sinai who are wanted for attacking police stations and killing policemen. A security source in the area said that there are close to 1,600 terrorists in the area.
Israel reportedly became concerned after Egypt moved anti-aircraft missiles into the Sinai Peninsula without Israel's permission. Such equipment is prohibited in Sinai by the Egypt-Israel peace treaty.
An Egyptian military source later denied that his country was deploying troops in Sinai beyond the limitations stipulated in the 1979 Camp David Accords.
Morsi hinted this week that his country's military operation in Sinai is being carried out in a way that fully honors international agreements.
Morsi said that Egypt threatens no one, and that its forces' presence in Sinai should not be a cause for concern on the regional or international levels.
He also said that the peace treaty with Israel will remain intact, but refrained from saying whether he would agree to meet any Israeli leaders.
(Arutz Sheva's North American Desk is keeping you updated until the start of Shabbat in New York. The time posted automatically on all Arutz Sheva articles, however, is Israeli time.)