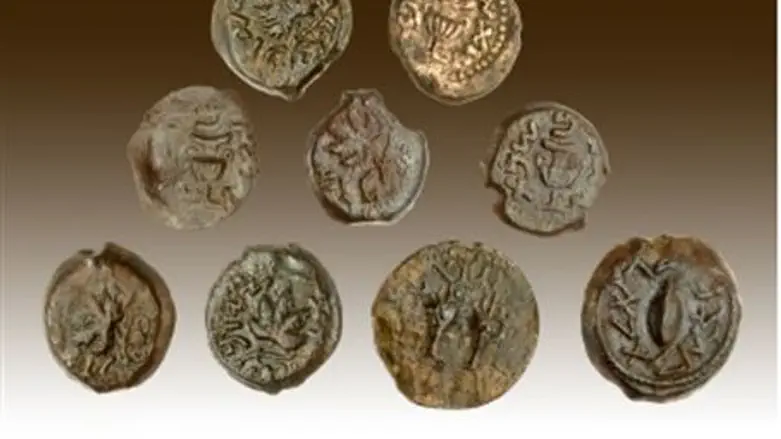 Ancient coins (file)
Israel news photo: Flash 90
The state of Israel has agreed to purchase ancient Egyptian artifacts and return them to Egypt. The unprecedented pledge follows an appeal from the Egyptian government.

The artifacts in question include sarcophagi from the period of the pharaohs. The ancient objects were for sale in antiques shops in Israel. They have now been purchased by the government and are to be transported to Cairo.

Egypt argues that the items were stolen from Egyptian territory and sold to dealers in Israel. However, under Israeli law, a dealer who purchased a stolen item from a second dealer is the rightful owner, even if it later is discovered that the seller obtained the item illegally.

The purchase deal was intended to fulfill Egypt's request while protecting dealers' legal rights.

Strong objection to the deal was voiced by attorney Yitzchak Meltzer, who represents Ouda Tarabin, an Israeli citizen who has been imprisoned in Egypt for 12 years on charges of spying. Meltzer has appealed to Prime Minister Binyamin Netanyahu, asking him to condition the transfer of the artifacts on Tarabin's release.

If Israel is to return stolen items to Egypt, Egypt must return stolen items to Israel, Meltzer told Arutz Sheva. "Ouda Tarabin has had nearly twelve years of his life stolen," he charged. "Their demand to get back the ancient artifacts they say were stolen obligates them, as well."

Tarabin is innocent, Meltzer added. "The United Nations Council for Human Rights already determined that he must be returned to Israel and given compensation, and that the whole story about spying is complete fiction," he said.