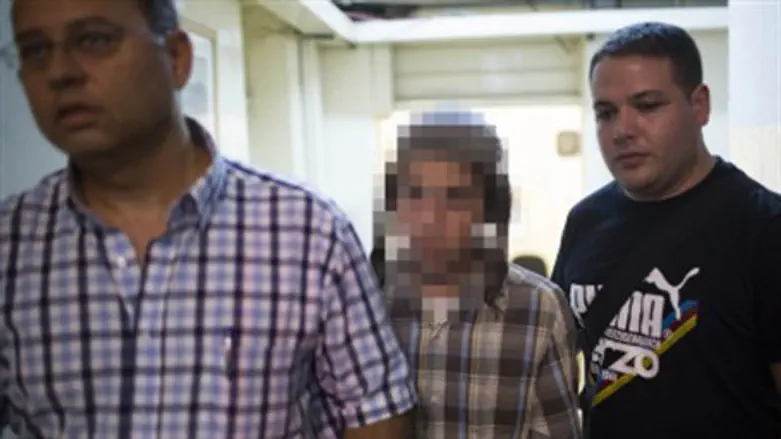 Suspect in firebomb attack.
Israel news photo: Flash 90
Rav Daniel Cohen, the rabbi of Bat Ayin in the Etzion Bloc, has denounced a recent firebomb attack on Arabs as a sign of moral decline.
The rabbi sent out a letter Thursday to residents of the community, in which he wrote about the arrest of three boys on suspicion of throwing a firebomb at an Arab taxi two weeks ago. The boys, aged 12 and 13, have been under arrest since Sunday.
Rav Cohen's letter begins with the hope that the suspicions against the boys will prove to be false. However, he said, the very fact that suspicion has been directed at Bat Ayin means that a process of soul searching is required. "An act like that is a crime and moreover, it is a moral decline toward an abyss that does not differentiate between murder and defense, between war and terror... Such acts are forbidden and despicable! They indicate confusion and a lack of judgment," he opined.
The rabbi called upon the community's youths to enlist to the army and yeshiva. "Do not be fooled by ideas that tempt you to do bad things. Build yourselves through torah and work. Build our country through dedication and labor…"
"Remember that it is permitted to protest against the government's aberrations, but in a legal way," he exhorted his flock. "It is true that we are in a bloody conflict, but it is also true that our destiny is to become a kingdom of priests and a holy nation, who are to bring about redemption of the world for the sake of goodness, freedom, and knowledge of the oneness of G-d."